Local History
Otterburn (Northumberland)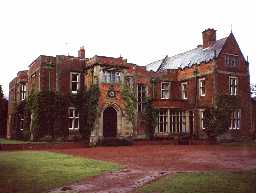 Otterburn Hall. Photo by Northumberland County Council.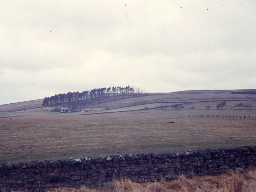 Landscape west of Otterburn. Photo by Harry Rowland.
Otterburn lies in west Northumberland in the Northumberland National Park. It has a long history, much of it associated with defence from
prehistoric
times to the present day. The remote and inaccessible nature of much of the parish, together with the presence of the army's Otterburn Training Area, has led to exceptional preservation of some prehistoric and later settlements and field systems.
The earliest remains in the parish are
Neolithic
. They include a piece of
pottery
and some stone tools, such as
a flint
,
polished stone axe
and
axehead
.
The oldest structures are
Bronze Age
and they are mainly ritual monuments and cairns. Many of these remains lie in places where people reused the same places in the
Iron Age
Roman
and
medieval
periods, such as on Barracker Rigg. Here, a
round cairn
lies amongst remains of a Roman period
settlement
and
field system
. At Todlaw Pike, a
round cairn
and
enclosed cremation cemetery
have been discovered, and another
round cairn cemetery
stands on Levey Bog. Many more round cairns have been discovered across the parish, suggesting there was a great deal of activity here in the Bronze Age. Few bronze objects have been discovered, but those that have include a
spearhead
and
axehead
.
The oldest settlements in the parish are
Iron Age
. Two different types of settlement have been found in Otterburn: defended settlements on
Colwell Hill
and
Fawdon Hill
and an
unenclosed hut circle settlement
on Todlaw Pike. The first settlement is encircled by three
ramparts
and ditches, while the latter sits unprotected amidst its field system of cairnfields and small rectangular plots. None of these settlements seems to have been used in the
Roman
period and a series of small farmsteads appear to have been established instead. For example at
Woodhill East
,
Wood Hill
,
Greenchesters
,
Little Crag
and
Barracker Rigg
. On Fairney Cleugh there are at least four
Roman
farmsteads
and one of the most extensive
cord rig
field systems
in the county. The Roman army built two roads through this area: the
High Rochester to Bridge of Aln road
and
Dere Street
.
Otterburn also lay on
medieval
route ways, such as the
Elsdon to Gamelspath road
. One of the most notable medieval events in the parish was the
Battle of Otterburn
, fought in 1388 between the Scots and the English. The dangers of living so close to the Scottish border meant that some people built defensive buildings called
tower houses
, such as at
Otterburn Tower Hotel
and
Greenchester
. There appear to have been few villages in the area at this time although Roman farmsteads on
Barracker Rigg
and
near Shittleheugh
were reoccupied at this time, and there may have been a village at
Heatherwick
,
Davyshiel
and
Branshaw
.
In the 16th and 17th century, Otterburn lay in the midst of Border
reiver
country. Those who could afford it built defensive farmhouses, now called
bastles
. Some of these buildings have survived, albeit in ruins, at
Shittleheugh
,
Branshaw
and
Girsonfield
.
The 18th century brought a more peaceful way of life to the area and people began to build less defensive homes, such as
Monkridge Hall
,
The Vicarage
,
Old Town Farmhouse
and Overacres, whose
gate piers
are all that survive. Later,
Otterburn Hall
was built as a county retreat for Lord James Douglas. The parish registers record many farmsteads in the parish, including
Potts Durtrees
,
Hopehead East
,
Hopeshield West
and
Hopefoot
. People also adopted new ideas in farming that came from the
Agricultural Revolution
at this time and a new,
planned farm
, was built at
Otterburn Hall Farm
.
The boundaries of landownership seem to have been formalised at this time and a series of boundary stones were erected from
Rigg Moss to White Crag
,
Black Hill to Todlaw Pike
,
Cowey's Cairn to Cooper Stones
and elsewhere. Transport links were improved in the late 18th century when the Jedburgh to Newcastle turnpike opened. Some early 19th century milestones still stand alongside the road (A696) at
Shittleheugh Bridge
and
north of Otterburn
. Alongside farming, other economic activities were established, including a
woollen mill
at Otterburn,
coal mining
near Hopefoot, a
tile kiln
at Garretshields, corn mills at
Davyshiel
and
Troughend
, and lime burning at
Greenchesters
. The spiritual side of life was also provided for with a
Presbyterian chapel
,
Church of St John the Evangelist
and
Quaker burial ground
.
More recently, Otterburn has been adopted by the Ministry of Defence as a training area and military remains from the 20th century are becoming important monuments in their own right, such as the
target operator bunkers
north of Hopehead.
Disclaimer -
Please note that this information has been compiled from a number of different sources. Durham County Council and Northumberland County Council can accept no responsibility for any inaccuracy contained therein. If you wish to use/copy any of the images, please ensure that you read the Copyright information provided.