Local History
Newbrough and Fourstones (Northumberland)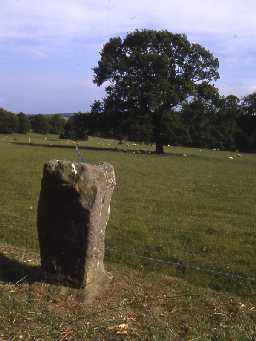 Roman altar at Newbrough Lodge.
Newbrough parish lies in south Northumberland, in the Tyne valley. There is a range of archaeological and historic sites from
prehistoric
to
post-medieval
times. The many
Roman
remains in the parish are associated with
Hadrian's Wall
and its predecessor, the
Stanegate
.
The earliest remains in the parish are
Bronze Age
and all are associated with burials. Two
round cairns
near
Middle House
may cover
cist
burials but a
cist burial
was discovered by a farmer at Allerwash in 1972. Inside, were human remains and a
bronze
dagger.
The oldest settlements in the parish are
Iron Age
. One survives only as
cropmark
at
Newbrough
, but others remain as
earthworks
, such as
Meggie's Dene Burn West
and
South Carrawburgh
.
Aerial photography
has also shown up the faint traces of
prehistoric
ploughing, called
cord rig
at
Little Crag
and
Brown Moor
. Some of these farmsteads may have been occupied in
Roman
times, such as
Grindon Hill
, but a new one seems to have been established at
Shield on the Wall
.
Although
Hadrian's Wall
is perhaps the best known
Roman
monument in the parish, the
Stanegate
Roman road is an earlier feature. This may have been the first Roman frontier in the north and was probably built between Carlisle, (Cumbria), and
Corbridge Red House fort
in the first century AD. Remains of the road have been recorded by archaeologists at
Newbrough
as well as contemporary forts at
Newbrough
and
Sidgate
. Hadrian's Wall was built across the area in the second century AD with turrets, milecastles and a fort at
Carrawburgh
. Many of these remains survive as upstanding
earthworks
. The fort at Carrawburgh has been partially excavated and features there include a civilian settlement, or
vicus
, a
bath house
,
Coventina's Well
, a
mithraeum
and a
cemetery
. Behind Hadrian's Wall are two temporary camps at
Brown Moor
and
Brown Dikes
, though their dates are unknown. The Romans may have pioneered lead mining at
Settlingstones
.
In
medieval
times, there seems to have been quite a large population in the area with people living in villages and hamlets at
Howden
,
Hawden
,
Wharmley
,
Thornton
,
Newbrough
,
Stonecroft
,
Side
,
Allerwash
and
Carraw
. A chapel stood at the west of the village on a site now occupied by the
Church of St Peter
. However, these were not the most settled of times, with wars between England and Scotland threatening the area. Some built defensive buildings, called
tower houses
, at
Settlingstones
and
Thornton
.
The
post-medieval
period was a more peaceful time and developments were made in farming and industry. New farm buildings were built at
Allerwash
and some fine buildings in Newbrough village as well as some rather grander country houses, such as
Newbrough Hall
, Newbrough Lodge and Newbrough Park and its
grounds
. Newbrough Hall was also an early advocate of electricity and had its own
power house
in 1902. A few years later, in 1908, the world's first
scout camp
is said to have been held at Carr Edge Farm by Lord Baden-Powell.
Disclaimer -
Please note that this information has been compiled from a number of different sources. Durham County Council and Northumberland County Council can accept no responsibility for any inaccuracy contained therein. If you wish to use/copy any of the images, please ensure that you read the Copyright information provided.