Local History
Humshaugh (Northumberland)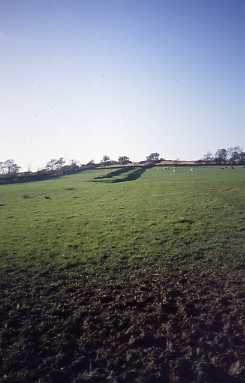 Hadrian's Wall at Black Carts. Photo by Northumberland County Council.
Humshaugh lies in mid-Northumberland on the banks of the River North Tyne, a few kilometres north of
Hexham
. Archaeological remains in the parish date from
prehistoric
times to the 20th century. The most famous remains are
Roman
, with
Hadrian's Wall
, its milecastles, turrets, and the impressive remains of
Chesters Roman fort
.
A
flint knife
found at Keepershield is probably the oldest piece of evidence for humans being in the parish. The blade of this
prehistoric
flint
was finely worked and may have been used to cut hides or meat. In the
Bronze Age
someone was buried at
Rye Hill
as their
inhumation
was discovered buried in a pot called a
food vessel
. Evidence of the ritual side of prehistoric life is also found on
Chesters bridge abutment
where the
Romans
used a stone with a
Neolithic
cup mark
carved on it.
In contrast, the
Romans
left a great deal of evidence behind them, all of it associated with the military presence along
Hadrian's Wall
. Humshaugh has some of the very best Roman remains in the country, none more so than
Chesters Roman fort
. Here, there are traces of a
civilian settlement
, a
bath house
,
cemeteries
, a
road
, a
temple
and a
well
, as well as a
Roman bridge
of monumental proportions that carried Hadrian's Wall across the River North Tyne.
The people of the early medieval period have left hardly any evidence behind. All that has been found here is a bronze
brooch
discovered at Chesters Roman fort in the 19th century.
In
medieval
times people lived in villages at
Haughton
and
Walwick
. Over the years Walwick has merely shrunk in size, but Haughton was removed entirely when the
grounds of Haughton Castle
were laid out in the early 19th century. Upstream of Chesters Roman fort, medieval people chose Chollerford as the place to cross the River North Tyne. A number of
bridges
were built here and destroyed by floods until the present
bridge
was completed in 1775. People living in this area also had to contend with the ravages of warfare between England and Scotland in medieval times and those who could afford it built defensive houses to protect themselves.
Haughton Castle
was just such a building and although it began life as a hall house in the late 13th century, over the years it was altered and fortified and was first called a `castle' in 1377.
Reivers continued to make the border regions of England and Scotland a troubled place to live into the 17th century. Those who could afford it built defended farmhouses, or
bastles
to protect themselves and their animals from the fighting between different border families. The village of Humshaugh has a number of bastles, since converted to modern living, such as
Linden House
,
Dale House and Cottage
and
Humshaugh House
. Unfortunately,
Haughton Castle
had gone into decline and in 1541 a raid by Armstrongs, Elliots and Crosiers saw nine horses and goods worth £40 stolen.
The 18th century brought with it a more peaceful way of life and people began to invest more in their surroundings and build less defensive houses.
Haughton Castle
was transformed into a fashionable country house and some of the bastles in Humshaugh village were altered and extended for more comfortable living. Country houses were built at Walwick and
Chesters
, and a
landscape park
was laid out at Haughton, and gardens at
Wester Hall
. Farming also began to develop more productive and innovative methods and series of fine farmhouses and planned farms were built in the 18th and 19th centuries, such as Coldwell and Haughton Strother. Other economic activities developed, including a
paper mill
at Haughton, lime burning at
Halfway House
to improve the fertility of the land, and a
dovecote
was built at Humshaugh to breed pigeons and doves.
Today, Humshaugh is an excellent place to find out more about the Romans in Northumberland with Chesters Roman fort and its
museum
open to visitors all year round.
Disclaimer -
Please note that this information has been compiled from a number of different sources. Durham County Council and Northumberland County Council can accept no responsibility for any inaccuracy contained therein. If you wish to use/copy any of the images, please ensure that you read the Copyright information provided.