Local History
Knaresdale with Kirkhaugh (Northumberland)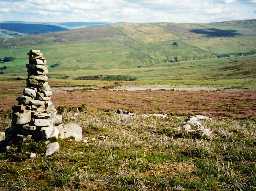 View across the parish. Photo by Northumberland County Council, 2003.
Between roughly 4000 and 6000 years ago, settled farming lifestyles took over from nomadic hunting lifestyles. Archaeologists call this the
Neolithic
period. Archaeologists have not found the remains of their farms or houses, but they know that people were living in, or travelling through, Knaresdale with Kirkhaugh at this time. Archaeologists think a
cup marked
standing stone
and cup marked
rock outcrop
were made by Neolithic people as religious symbols, or perhaps to act as route markers.
Between 3000 and 4000 years ago, society went through a number of gradual changes. Archaeologists call this period the
Bronze Age
because copper alloy tools and weapons were first developed. There is little known about where Bronze Age people lived in this area, although a possible homestead lies near
Money Currick
. There was also a change from the communal burials of the past to individual burials. Many people were buried with gifts for an afterlife, perhaps as a way of showing how rich or powerful they were. A stone
cairn
was often built over burials. Two
barrows
and a
cairn
at
Kirkhaugh
were found and excavated in the 1930s. A gold earring or hair decoration was found with one of the burials. You can see the earring/hair decoration and find out more about it on the website of the Museum of Antiquities in Newcastle upon Tyne: http://museums.ncl.ac.uk/archive/old_fotm/old_fotmap98/ .
Standing stones near
Highshield
,
Butter Well
and
Green Rock
were probably erected between 3000 and 6000 years ago, in the
Bronze Age
or the
Neolithic
period. Archaeologists think the stones had religious significance. A stone circle at
Holymire
and at
Longpot Head
as well as
Holymire mortuary enclosure
may date from a similar time.
Some structures in the landscape are very difficult to date. There are nine
curricks
on hilltops in Knaresdale with Kirkhaugh including
David's Cobs
and
Green Hill
. These may have been built at any time since people have lived in the area we now call Knaresdale with Kirkhaugh.
Archaeologists know little about the
Iron Age
in Knaresdale with Kirkhaugh. The earliest
settlement
in the parish may be from this time or from the
Roman
period. After the Roman invasion of AD43, Knaresdale with Kirkhaugh was an important frontier region. The fort of
Epiacum
, or Whitley Castle, was established and archaeological excavations here found a bathhouse and several
altars
. The fort lay on a Roman road known as the
Maiden Way
and the remains of a bridge
abutment
can still be seen where this road crossed the River South Tyne. On
Heaplow Hill
, near Whitley Castle, is the possible site of a Roman
signal station
.
After the
Roman
occupation ended in AD410 immigrants from Europe gradually settled in parts of northern England. The
Anglo-Saxons
who settled in Northumberland lived in settlements that grew up around farms. Because an Anglo-Saxon
stone cross
stands in Kirkhaugh churchyard, archaeologists think that a village existed at
Kirkhaugh
at this time. Other
medieval
villages in Knaresdale with Kirkhaugh may have a similarly long history, but have not yet been investigated.
Evidence for medieval life in Knaresdale with Kirkhaugh after the Norman invasion of 1066 can be found all over the parish. Medieval documents can be compared with standing remains, such as
earthworks
, of the former
crofts
, tofts and streets. The medieval villages of
Kirkhaugh
and
Knaresdale
both show traces of partial abandonment and are known as shrunken medieval villages.
Williamstone
is an example of a medieval manor that never grew into a village.
The 14th century
Church of St Jude
and the 13th century
Church of Holy Paraclete
were both demolished in the 19th century. Traces of these earlier churches do survive in the form of gravestones around
St Jude's
and a stained glass window at
Holy Paraclete
.
Medieval farmers and herders often moved from their winter homes in low lying areas of the parish to summer homes, or
shielings
, in the hillier areas. This allowed their animals to graze on upland vegetation while the grass in the valleys grew long enough to be harvested for winter fodder. Archaeologists call this type of lifestyle transhumance. The remains of
shielings
can be seen at
Mardy's Cleugh
and
Parker's Shield
. The remains of a more permanent medieval home, known as a longhouse, is incorporated into a later building at
White Leas
.
Border raiding
was a constant threat in Northumberland in the 16th and 17th centuries. Some houses, called
bastles
, were designed to protect the inhabitants and their possessions, with thick walls, a barn on the ground floor and living space above. Some later houses were built in this style even though raids were less of a threat. There are many examples in the parish, including
Holymire
,
Dyke House
,
Greenhaugh
and
Low Row
.
Limestone has probably been quarried and burned in Knaresdale with Kirkhaugh throughout history, but most of the lime kilns that can be seen today were built in the 18th and 19th centuries. A few examples include:
Eals Bridge
,
`Barhaugh B'
,
`Barhaugh C'
,
Williamstone
,
Knarsdale Common
and
Far House
.
In the 18th century, land was
enclosed
and landowners became richer as agriculture became more productive. Fashionable houses and
landscape parks
, such as
Barhaugh Park
, were built with the profits. Roads were improved with new bridges at
Burnstones
,
Eals
and
Knar Burn
and communications also improved with the coming of the railway to Knaresdale with Kirkhaugh in 1852. The viaducts at
Gilderdale
and
Burnstones
were built in this year. Lead and copper were both mined in the area. Lead miners who lived too far to walk to work from their homes every day slept in a
mine shop
converted from a
bothy
in the 19th century. The remains of
Bold Venture
copper mine can still be seen today. The 19th century collieries at
Barhaugh Burn
and
Burnhouse
didn't close until the 20th century.
In the 19th century, nonconformism grew in popularity.
Wesleyan
chapels were built in the 1870s at
Kirkhaugh
and
Eals village
and at Slaggyford, the 1862
chapel
was replaced forty years later by a larger
Methodist
church
.
Disclaimer -
Please note that this information has been compiled from a number of different sources. Durham County Council and Northumberland County Council can accept no responsibility for any inaccuracy contained therein. If you wish to use/copy any of the images, please ensure that you read the Copyright information provided.