Local History
Elsdon (Northumberland)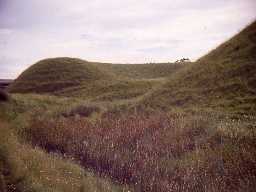 Earthworks of the motte and bailey castle at Elsdon. Photo by Harry Rowland, 1967.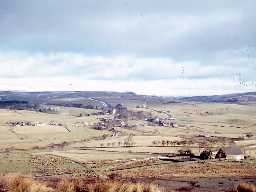 View of Elsdon village. Photo by Harry Rowland.
Elsdon lies in central Northumberland on the edge of the Northumberland National Park. Archaeological remains in the parish date from
prehistoric
times to the 20th century.
A
stone axe
from Grasslees is one of the oldest pieces of evidence for people being in the parish. It dates to the
Neolithic
when people first began to clear trees and undergrowth away to make fields. Evidence of the rituals carried out by Neolithic people come from the discovery of mysterious
cup and ring marked stone
s carved on a rock outcrop at
Tod Crag
. The oldest structures in the parish date to the
Bronze Age
and include cairns and ritual monuments. Most of the cairns are
clearance cairns
, made so that crops could be grown on the newly created fields. Some of the
cairns
were built as burial places and they sometimes cover a stone
cist
. Some of the tools or weapons used by Bronze Age people have been found in Elsdon, such as an
axe
from Eastnook Farm.
The earliest settlement in the parish is probably a
round house
at Hallshill Farm. The precise date it was built is not known but it was probably in either the Bronze Age or
Iron Age
. The Iron Age was a time when there seems to have been an increasing level of conflict and people mainly built defended settlements such as at
Haining
and
Manside
. The settlement at Manside is protected by three
ramparts
and two ditches. Inside, there would have been a number of circular wooden houses for an extended family. When the settlement was excavated in 1959, archaeologists found evidence that people lived here in the
Roman
period too. Life probably changed very little between these two periods, although the houses were rebuilt in stone. The small farmsteads built in the Roman period are generally squarer than their earlier counterparts and some survive as
earthworks
together with their field systems, such as the
Butts
on Wether Hill.
The parish lies north of
Hadrian's Wall
and, although there are Roman military sites in neighbouring parishes at Otterburn, there are none in Elsdon. A
Roman tombstone
in
St Cuthbert's Church
is said to have come from
High Rochester Roman fort
and was found in
Elsdon motte
.
In
medieval
times Elsdon was an area well used by travellers along medieval, and possibly even older, routeways, such as the
Elsdon to Gamelspath road
. Their paths were marked by wayside crosses, such as
Manside
and
Steng
. At this time people lived in hamlets, villages and farms, such as
Raylees
. Elsdon village grew up around the
motte and bailey castle
built here after the Norman Conquest in the 11th century. Unfortunately the castle was too remote and its role was taken by
Harbottle Castle
in the 12th century. The 12th century also saw the first
church
built in Elsdon.
The medieval period was also a time of warfare between England and Scotland and those who could afford it built defensive homes.
Elsdon Tower
was originally built in the 15th century for the rector of Elsdon. It was rebuilt in the 16th century and is one of the best
tower houses
in the county.
Reivers continued to make the border regions of England and Scotland a troubled place to live into the 17th century. Again, those who could afford it built defended farmhouses, called
bastles
, to protect themselves and their animals from attack. Some of these buildings have survived, such as at
Townfoot
converted in later centuries for more comfortable living, and
Ottercops
and
Whitlees
which are used as farm buildings. Another, at
High Bowershield
, lies in ruins.
The 18th century brought a more peaceful way of life to the area and people began to build less defensive houses and took on new ideas in farming. The parish registers record many farmsteads in the parish, including
Heir's House
Dunshield
,
The Haining
and
Low Carrick
. New
farm buildings
were built in Elsdon village at
The Crown
. This is one of several former inns in the village, including
The Bacchus
and
The Bird in the Bush
that would have provided accommodation and refreshments to travellers along the new Jedburgh to Newcastle turnpike, which opened in 1776. The
cockpit
at Elsdon would have provided sport to locals and travellers. The boundaries of landownership seem to have been formalised at this time and a series of
boundary stones
was erected between Ottercops and Kirkwhelpington. Alongside farming, other economic activities developed, including: millstone quarrying at
Peterstone Flow
; corn milling at
Whiskershiel
,
Cresswell Lees
,
Elsdon
and
Overacres
; and lime quarrying and burning at
Dunshield
and
Bowershields
.
In modern times, a
radar station
was built at Ottercops in World War II (1939-1945) and was protected by four
anti-aircraft artillery sites
.
Disclaimer -
Please note that this information has been compiled from a number of different sources. Durham County Council and Northumberland County Council can accept no responsibility for any inaccuracy contained therein. If you wish to use/copy any of the images, please ensure that you read the Copyright information provided.