Local History
Longframlington (Northumberland)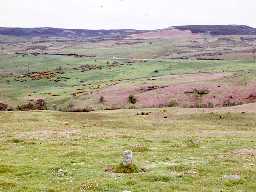 Longframlington. Photo by Harry Rowland.
The civil parish of Longframlington lies in eastern Northumberland, on the River Coquet, east of the Simonside Hills.
Between roughly 4000 and 6000 years ago, settled farming lifestyles gradually took over from nomadic hunting lifestyles. Archaeologists call this the
Neolithic
period. Archaeologists have not found the definite remains of Neolithic farms or houses, although part of a ditch and a post hole found in an excavation at
Hall Hill Farm
could date from this time. Of a similar date, stone axe heads made by Neolithic farmers have been found in the parish, at
Longframlington
,
Framlington
and
Embleton Stead Farm
.
Many carved rocks have been found in the parish. Archaeologists think a
cup marked
standing stone
and cup marked rock outcrops at
Snook Bank
and near the
Millstone Burn
were made by late Neolithic people as religious symbols, or perhaps to act as route markers or land boundaries. The carvings near Millstone Burn can be found on 15 or more stones, which lie in an area more than a mile long.
Between roughly 3000 and 4000 years ago, people buried their dead in stone-lined
cists
under
cairns
.
Cist
burials have been found in Longframlington, at
Snook Bank
and on the
Longframlington/Cartington parish boundary
.
Some things are difficult to date. A
flint tool
found on Longframlington Common was probably made and used some time between 2000 and 4000 years ago.
The remains of one possible
Iron Age
or
Roman
period
native settlement
have been reported in the parish. The
earthwork
remains of another enclosure at
Swarland Burn
may date from the Iron Age. Part of a
beehive quern
has been found on Glantlees Farm. Such querns were used to grind cereals and other foodstuffs and suggest the presence of a 2000 year old settlement nearby. An
enclosure
, which may have been for animals, or may have been the boundary of a settlement, has been found dating from the Roman period. Iron was worked on a site now part of
Canada Farm
. Another
beehive quern
found in Longframlington shows that farmers continued to grow crops, harvest them and make flour during the
Roman
period.
After the
Norman
invasion of 1066, the land was shared out between
Norman
barons and lords. Large baronies owned smaller
manors
. Villages often grew up around these manors.
Medieval
villages were small. Over time, some, such as
Framlington Magna
, or Longframlington, grew in size, while others shrank until they were no more than one farm or house, or disappeared completely. Examples in the parish of Longframlington are
Low or Nether Framlington
and
Newmoor Hall
. Archaeologists call these settlements
deserted medieval villages
or shrunken medieval villages. Sometimes
earthworks
can be seen, all that remains of
crofts
, tofts and field systems. At other locations no traces remain, and archaeologists only know about them from
medieval
documents. Some farms that exist today have medieval or earlier origins; examples are the farms at
Snook Bank
and
Hall Hill
.
Iron continued to be worked in Longframlington in the medieval period at
West Moor
, which is now part of Canada Farm.
Stone is another of Longframlington's natural resources. In the 17th century, millstones were quarried at
Glantlees Farm
. In the 18th century, a quarry was opened near the
Millstone Burn
. Another existed at
Mount Pleasant
at around the same time. In the 18th and 19th centuries, farmers improved their land with fertiliser extracted from limestone in
lime kilns
. The remains of a lime kiln can be seen today at
Longframlington quarry
.
Agricultural improvement and
enclosure
in the 18th century created extra wealth for landowners. An 18th century
boundary stone
can still be seen in Longframlington. Fashionable houses, such as
Rookwood House
and
Newmoor Hall
, were built at this time.
Peat was dug from Rimside Moor in the 19th century.
Hollow ways
on the moor are probably the tracks of peat sleds, which took the peat down to the nearest roads.
Nonconformism increased in popularity in the 19th century. The Presbyterian Chapel in
Longframlington
was built in 1854.
Disclaimer -
Please note that this information has been compiled from a number of different sources. Durham County Council and Northumberland County Council can accept no responsibility for any inaccuracy contained therein. If you wish to use/copy any of the images, please ensure that you read the Copyright information provided.