Local History
Haltwhistle (Northumberland)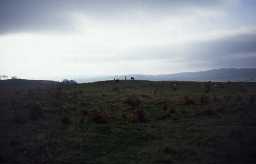 Mare and Foal stone circle. Photo by Northumberland County Council.
Haltwhistle lies in south-west Northumberland, close to the county boundary with Cumbria. The parish stretches from Cawfields Crags in the north, down to the River South Tyne. The name Haltwhistle means a hill between the fork of a river, such as between the Haltwhistle Burn and the River South Tyne. Archaeological remains date from prehistoric to more recent times, but there are more
Roman
remains than any other period.
The earliest monument found so far in the parish is the
Mare and Foal stone circle
. It would have been connected with the ritual side of
Bronze Age
life. Some possible
burials
near Wall Mill were also thought to be
Bronze Age
but may be Roman instead. Although we do not know where
prehistoric
people lived in Haltwhistle there is evidence of how and where they farmed.
Aerial photographs
show traces of
cord rig
cultivation along the Roman frontier and by the Haltwhistle Burn.
With
Hadrian's Wall
crossing the parish there are many
Roman
sites here. The Wall runs along the top of Cawfields Crags and stands twelve courses high in places. As well as the Wall itself there are a number of
milecastles
and
turrets
. Some of these have been excavated and left exposed, such as
Milecastle 42
and
Turret 41a
. Other features include a
watermill
,
milestones
, a
cemetery
, the Military Way, the
Stanegate
, a small
fortlet
by the Haltwhistle Burn and a great many temporary camps. More than ten camps have been discovered in Haltwhistle so far and all have some upstanding
earthworks
.
Markham Cottage camp
is the largest covering nearly 17 hectares and
Sunny Rigg 3
is one of the smallest enclosing only 284 square metres. A great many other, smaller elements have also been found in the parish, such as altars and inscribed building stones.
In
medieval
times there was a settlement at
Haltwhistle
from the 12th century when it is mentioned in the Melrose Chronicle. There was a mill,
church
,
castle
,
market place
and a nearby
hospital
to the west.
In medieval and early
post-medieval
times the border region of England and Scotland was a dangerous place with battles, skirmishes and raids happening on both sides. There was obviously a need for some defences in Haltwhistle and by the 15th century a
tower
had been built here. The
Red Lion Hotel
was another, built in the late 16th or early 17th century and is one of the latest examples in the county. As feuds between border families continued, it was necessary for those who could afford it to build special defended farmsteads that we now call
bastles
. Haltwhistle seems to have had quite a collection of this type of building with at least five known along Main Street and around the Market Place.
Later, as things settled down, people began to invest more in their surroundings. In the 18th and 19th centuries, industries sprang up, especially along the Haltwhistle Burn. Here, there was a
gas works
,
saw pit
,
brewery
,
woollen mill
,
colliery
,
tile works
,
brickworks
,
ironworks
and any number of quarries. Haltwhistle also prospered when the Newcastle to Carlisle railway was built in the 1830s and when it became the junction for the Alston branch line in 1851. Today, Haltwhistle is a country market town and gateway to Hadrian's Wall country with some of the most spectacular stretches within easy reach.
Disclaimer -
Please note that this information has been compiled from a number of different sources. Durham County Council and Northumberland County Council can accept no responsibility for any inaccuracy contained therein. If you wish to use/copy any of the images, please ensure that you read the Copyright information provided.