Local History
Cheviotside (Northumberland)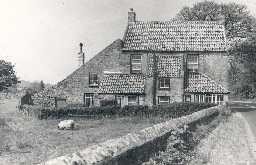 Surrey House in 1968. Photo by Northumberland County Council.
Ilderton parish lies in north Northumberland on the edge of the Cheviots. It stretches from the lower reaches of the Lilburn Burn in the east to the heights of Harehope Hill in the west and lies partly within Northumberland National Park. The upland slopes of the parish are covered with an amazing number of
earthworks
of
prehistoric
settlements and field systems, with a remarkable concentration on Brands Hill.
People were probably living in this area more than 6000 years ago, during a period archaeologists call the
Neolithic
. So far, archaeologists have found a possible
henge
,
flint arrowhead
, a piece of
pottery and flint flake
, and a
cup and ring marked stone
near Middleton Dean. Far more evidence comes to light from the
Bronze Age
when we can find out more about how and where our ancestors lived and died. Several hut circle settlements survive in the uplands, including
Langlee Crags
,
Brands Hill
, and
Rackside
, where there are also remains of field systems with enclosures and clearance cairns. The areas of ground cleared of stone also survive here as smoothed areas of land within the field systems. Evidence for the ritual side of Bronze Age life is also abundant, with a
cremation cemetery
near Middleton Dean, a
long cairn
on Dod Hill, a
round cairn cemetery
by the Lilburn Burn, and a
stone circle
at Threestoneburn. As well as these remains there are many isolated or small groups of burial cairns scattered across the hillsides. Some stand undisturbed in prominent positions on hilltops, such as on
Dod Hill
, whilst others have been found in the lower parts of the parish by ploughing in the 19th century, such as on
Ilderton Farm
.
In the
Iron Age
the pattern of settlements began to change and they became more defensive and enclosed.
Promontory forts
at
Middleton Dean
and
Harelaw Burn
use steep natural river cliffs to enhance their defences and
The Ringles
uses a natural knoll. An unusual stone enclosure on
Brands Hill
has been likened to a Scottish
dun
and is surrounded by field systems, cairnfields and round houses. Fields with
cord rig
plough marks at
Easter Dean
show that late prehistoric farmers were growing food here. Iron Age people probably lived in the lower lying parts of the parish as well, such as at
Harborough Camp
,
Blackborough Camp
and
Roseden Edge
where
cropmarks
are all that survive.
Little seems to have changed in the area during the years of
Roman
rule. Ilderton lies north of
Hadrian's Wall
, the northern edge of the Roman Empire for much of its time in Britain, and most people probably continued to live in the same kind of homes as they had done in the Iron Age. A common difference between these settlements is their overall shape; in the Iron Age they were usually roughly circular, but in Roman times they are often more rectangular or square. There are more than twenty farmsteads and settlements known in this area and some also have remains of field systems nearby, such as on
Brands Hill
. Many of the farmsteads on Brands Hill seem to be connected with each other by long winding trackways, such as the
settlement south-west of Broom Crook Plantation
, the
settlement west of Middleton Old Town
, another
settlement west of Middleton Old Town
, and the
settlement south-east of Carey Burn Bridge
. Yet, perhaps some of the most outstanding survivals anywhere in the County are the
farmsteads
on the northern slopes of Brands Hill where an entire village and field system stand as prominent
earthworks
.
After the Roman army left Britain only one piece of tantalising evidence survives from the
early medieval
period in the form of a small
Anglo-Saxon
bead. Unfortunately we know nothing of who might have owned this bead or where they lived.
In
medieval
times people lived in villages at
North Middleton
and
Ilderton
. At Ilderton a
church
was built in the 13th century to serve the local people. There were also other settlements and farmsteads such as
Whinney Hill
and a
moated site
, as well as smaller settlements called
shielings
. Shepherds used shielings in summer months whilst looking after sheep on high pastures, such as near
Langlee
and
South Middleton
.
In medieval and early
post-medieval
times, the border region of England and Scotland was a very unsettled and sometimes dangerous place to live. There were battles and skirmishes taking place on both sides and an obvious need for some defences. A
tower
once stood at Ilderton and was probably used for a few hundred years as a refuge in times of trouble. The oldest parts of
Surrey House
are said to belong to a house in which the Earl of Surrey stayed before the
Battle of Flodden
in 1513 and a
spur
is rumoured to have been used in a nearby battle.
The border family feuds of the late 16th and early 17th centuries do not seem to have left their mark in Ilderton with no
bastles
recorded here. As more peaceful times descended on the area in the 18th and 19th centuries people began to invest more in their surroundings, building fine houses at
North Middleton
and
Ilderton
, a
garden house
near Surrey House, and restoring the
Church of St Michael
. The 19th century also saw the coming of the railway as the Alnwick to Cornhill line was built across the parish and Ilderton was provided with its own
station
.
Today, Ilderton contains some of the finest archaeological monuments in the County and is a gateway to the Cheviots.
Disclaimer -
Please note that this information has been compiled from a number of different sources. Durham County Council and Northumberland County Council can accept no responsibility for any inaccuracy contained therein. If you wish to use/copy any of the images, please ensure that you read the Copyright information provided.