Local History
Greenhead (Northumberland)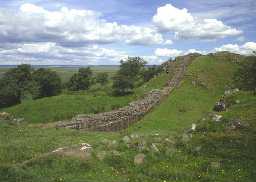 Hadrian's Wall, near Walltown (Copyright © Don Brownlow)
Greenhead lies in south-west Northumberland, close to the border with Cumbria, and is partly in the National Park. The parish stretches from the edges of Thirlwall Common in the north, across the valley of the Tipalt Burn, and south to Blenkinsopp Common. The name Greenhead means the high ground at the watershed between the River Irthing and Tipalt Burn. Archaeological remains date from the
prehistoric
period to more recent times, but
Hadrian's Wall
is by far the most famous archaeological site in the parish.
The earliest piece of evidence from the parish is a
Neolithic
stone axe
from Blenkinsopp. This would have been used to clear trees and undergrowth, perhaps so crops could be planted. This was a time when people began to look for a more settled way of life and when farming began. Some remains of early cultivation known as
cord rig
, have been found by
aerial photography
and probably date to the
Bronze Age
or
Iron Age
.
With Hadrian's Wall crossing the parish there are many
Roman
sites here. The Wall is mostly a stony, rubble and grass-covered mound along this section, but some exposed stones can be seen near
Cockmount Hill
. As well as the Wall itself there are forts at
Carvoran
and
Great Chesters
, and a number of
turrets
and
milecastles
. Some of these have been excavated and left exposed, such as
Turret 44b
. Other features associated with the Roman frontier are the
vallum
, Military Way, civil settlements at
Carvoran
and
Great Chesters
, an
aqueduct
,
cemetery
, temporary camps at
Chesters Pike
,
Burnhead
and
Glenwhelt Leazes
and the
Stanegate
road. A great many other, smaller, elements have also been found in Greenhead, such as altars, milestones and inscribed building stones.
The parish was also settled in
medieval
times with a village at
Walltown
. Other settlements have been suggested at
Blenkinsopp
and
Glenwhelt
but there is less evidence for these. Some even smaller settlements are
shielings
probably used in summer by shepherds looking after sheep on high pasture near Hadrian's Wall.
In medieval and early
post-medieval
times the border between England and Scotland was very unsettled, with battles, skirmishes and raids taking place on both sides. As Greenhead lies close to the Scottish border, there was obviously a need for some defences because
Blenkinsopp Castle
was built in the 14th century and
Walltown Tower
in the 16th century. Later, as feuds between border families continued, it was necessary for those who could afford it to build special defended farmsteads that we now call
bastles
. Two such buildings stand in the parish, at
Glenwhelt
and
Low Old Shields Farmhouse
, and serve to remind us of those dark days.
As the Borders became a more settled and peaceful area in post-medieval times it was a fairly prosperous time for this region of England. People started to invest more in their surroundings, new roads were built and new farming methods were introduced. For example,
Blenkinsopp Hall
was built in about 1800 and
Blenkinsopp Castle
was virtually rebuilt as a Victorian mansion in the 19th century and
parkland
was laid out around it. Few industrial activities seem to have sprung up here at this time, other than lime burning to improve the land, with lime kilns at
Walltown Quarry
and
Todholes
. However, the 19th century did see the coming of the railway with the Newcastle and Carlisle Railway Company opening a route in the 1830s, although the station at Greenhead is now closed. Today, Greenhead is still a rural parish largely dependent on farming, but with the added bonus of long and dramatic stretches of Hadrian's Wall to visit.
Disclaimer -
Please note that this information has been compiled from a number of different sources. Durham County Council and Northumberland County Council can accept no responsibility for any inaccuracy contained therein. If you wish to use/copy any of the images, please ensure that you read the Copyright information provided.