Local History
Hepple (Northumberland)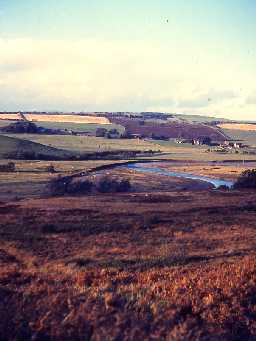 View over Hepple parish. Photo by Harry Rowland.
Hepple lies in central Northumberland, with the River Coquet running across the north-east portion of the parish. The village of Hepple is situated by a bend in the river and much of the south-west part of the parish is taken up by woodland. The oldest finds in the parish date to the
Neolithic
period and include an
arrowhead
,
axe head
and other types of
flint implement
. This was a time when a more settled way of life was developing, with less reliance on hunter-gathering.
However, it was the
Bronze Age
people that left behind them evidence of the first built structures. They built
cairns
for two reasons: one to clear stone from newly created fields and secondly to bury their dead in. Cairns are plentiful across the parish and the burial cairns have revealed a number of objects, such as
cinerary urns
and stone
cists
. Other objects from this period include flint implements, a small
food vessel
, and
jet bead
.
Before the
Roman
invasion of Britain in AD43, in a period archaeologists call the
Iron Age
, the native people of this area lived in small farmsteads and defended settlements. The defended settlements are often called
hillforts
and were used as places to flee in times of danger, as well as permanent homes. The remains of this type of settlement can be seen at
Soldier's Fold
and
Witchy Neuk
together with the remains of several round houses. There are also some less defensive settlements in the parish, such as
Camp Field enclosure
, unenclosed hut circles on
Todlaw Pike
and farm at
Pattenshiel Knowe
.
Possibly the site most rich in finds was a quarry, the site of an
Anglo-Saxon
burial
. Here, the finds included a glass bead with a bronze ring, a bronze chain, two ear pendants, an iron knife, a nail cleaner, a bronze wire ring, a bronze scoop, iron strips, and a bone comb. From around the same
early medieval
period there were some
glass beads
found at a different site.
After the
Norman
invasion of 1066, England was divided between various lords and barons. A number of villages were established in the Hepple area, including
Caistron
,
Low Farnham
and
Wreighill
, where there are some
earthworks
showing traces of these former settlements. There have been other objects dated to the medieval age found in and around the
post-medieval
Christ Church
, such as a 12th century font bowl, a 14th century grave cover,
two gravestones and a footstone
.
Like many other areas in Northumberland, Hepple suffered during the border wars with Scotland in the 13th and 14th centuries and some people built defensive homes called
tower houses
, such as
Hepple Tower
. The turmoil of the medieval period was echoed in the
post-medieval
period with fierce feuds between border families called
reivers
. Those who could afford it built defended farmhouses called
bastles
and many of these survive across western and central Northumberland either as ruins or as conversions into later, more comfortable farmhouses, such as at
Craig Farm
,
The Raw Farm
and
High Shaw
.
Agricultural improvements in the 18th and 19th century can be seen in the remains of
lime kilns
at
Bickerton
and
Hepple Whitefield
as well in the fine farmhouse at
East Hepple
and its
planned farm buildings
. A series of boundary stones were erected to demarcate landownership at
Headshope Farm
and between
Black Hill and Todlaw Pike
. Several other industries sprang up at this time with coal workings at
Carrick
,
ironstone working
and
tileworks
. In more recent times a line of
pillboxes
was built at
Bickerton
and
Hepple
, forming part of the Coquet Stop Line.
Disclaimer -
Please note that this information has been compiled from a number of different sources. Durham County Council and Northumberland County Council can accept no responsibility for any inaccuracy contained therein. If you wish to use/copy any of the images, please ensure that you read the Copyright information provided.