Local History
Whittingham and Callaly (Northumberland)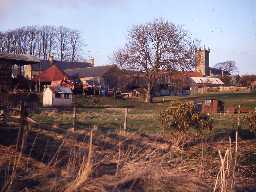 Whittingham village. Photo by Harry Rowland.
Whittingham parish lies in mid-Northumberland and stretches from the vale of the River Aln to the heights of Thrunton Crags.
The oldest remains in the parish are
Neolithic
and include a
flint
arrowhead
as well as some of the mysterious
cup and ring marked stones
from
Mountain Farm
and
Mile Farm
. The carved stones were discovered in
Bronze Age
burials and may have held some significance for a long period of time. Such burials might have contained a
cremation
or
inhumation
with
grave goods
, and may have been covered by a
barrow
or
cairn
. A
round barrow
excavated near Whittingham revealed some pottery, but little else is known about this site and other burial have been found in
Thrunton Woods
. Other Bronze Age objects have been found in a
hoard
of weaponry on Thrunton Farm; this may have been a religious deposit as it was found in a patch of marsh had been arranged in a circle.
Two
Roman
roads pass through the parish: the
Devil's Causeway
and a
linking road
to
Dere Street
. No settlements or military sites have been found in the parish although
Low Learchild
Roman fort lies just outside the parish.
In the
early medieval
period there was probably a settlement in Whittingham as the remains of an
Anglo-Saxon
church can be seen be seen in the fabric of the
Church of Saint Bartholomew
. Although much of the early church was destroyed in the 19th century, some early
quoins
in the tower,
nave
and
aisles
can be seen. The place-name `Whittingham' itself has the elements 'ham and 'ing, which are thought to indicate early
Anglian
settlements.
In the
medieval
period there were villages and hamlets at
Thrunton
,
Eslington
,
Whittingham
and
Barton
. Traces of the medieval field system still survive as
ridge and furrow
earthworks
at Barton. During the wars between England and Scotland defences were built against Scottish raiders. These took the form of
tower houses
at
Eslington
and
Whittingham
together with a
vicar's pele
at Whittingham. Some of the boundaries established in medieval times are still visible today, especially on the upland areas of Callaly Moor where a series of
boundary stones
stand.
Changes in agriculture took place throughout the
post-medieval
period. These led to changes in settlement and wealth.
Eslington Park
is an example of such an improved landscape and is laid out around a country house, also called
Eslington Park
. The poor of parish were catered for when
Whittingham Tower
was turned into
almshouses
in the 19th century. Transport was also improved with the first Morpeth to Wooler
turnpike
travelling through Whittingham from the 1780s, much of which is still followed by the A697 today. The North Eastern Railway also came to Whittingham with the Alnwick to Cornhill line with a fine
station
at the Bridge of Aln.
Disclaimer -
Please note that this information has been compiled from a number of different sources. Durham County Council and Northumberland County Council can accept no responsibility for any inaccuracy contained therein. If you wish to use/copy any of the images, please ensure that you read the Copyright information provided.