Local History
Cramlington (Northumberland)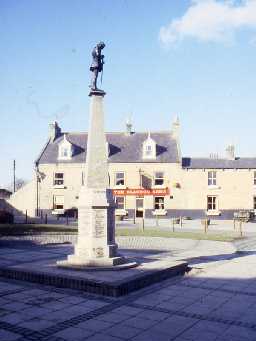 Cramlington War Memorial.
Cramlington, Horton and Plessey lie in south-east Northumberland in an area marked by the River Blyth in the north and the county boundary with North Tyneside in the south.
The oldest remains are those of a possible
Neolithic
henge
at
Bebside
, discovered by
aerial photography
. A later site with ritual or religious associations is a
Bronze Age
cemetery
at Plessey Quarry. Three pots were found on a high point overlooking the River Blyth, a situation typical of burial places at this time.
Little is known of the
Iron Age
or
Roman
period. Settlements were small, roughly rectangular enclosures with circular timber huts inside.
Cropmarks
of enclosures at
Cramlington
may be all that remains of these small farmsteads but recent excavations at a site north of
West Hartford
found no
prehistoric
remains.
The earliest documented settlements are
medieval
villages at
Horton
and
West Hartford
with a manorial centre at
Plessey
with its own
chapel
and
hall
. Tynemouth Priory owned much of the land in this area and had a
grange
at Bebside. During the wars with Scotland, there was a need for defences and a manor house at
Horton
was fortified in the 13th century. Another defended building stood at Bebside where a
tower house
was built and later incorporated into
Bebside Old Hall
. An early river crossing was made at Hartford in the 13th century, but the oldest parts of the present
bridge
are 15th or 16th century.
Post-medieval
developments are dominated by the coal industry, but coalmining had already been established by the mid-13th century when coal was probably exported from Plessey to London. Pits were linked by waggonways to harbours on the Blyth and Tyne rivers, such as the
Plessey waggonway
, though later examples, like the
Cramlington Waggonway
, linked to the railways. Horsepower was used to lift coal or water from the earlier coalmines, through the use of structures like
gin gangs
, such as
Cuddy's Wheel
. Clays and stone were also extracted from
brickfields
and
quarries
near Hartford Bridge.
As well as industry, farming was developing new methods and practices. The
Agricultural Revolution
saw
planned farms
built to make the most of these new ideas, such as
High House Farm
, Bebside. A
windmill
was built at Plessey Checks whilst, for winter meat, a
dovecote
was built near Plessey Moor Farmhouse.
Defence of the whole industrialised area was especially important in both World Wars. The proximity of these industries, flat lands and rail-links led to increasing defences from the new types of attack. An airfield was constructed to counter
Zeppelin
raids and an airship base was built at Nelson, Cramlington. It had its own large shed,
barrack
accommodation, waterworks and chemical plant to make hydrogen gas and was used for airship patrols over the North Sea to counter the U-boat threat in World War I (1914-18).
Modern developments since the 1960s have seen the `New Town' development of Cramlington as commuter-belt and light industry lands on the edge of Tyneside.
Disclaimer -
Please note that this information has been compiled from a number of different sources. Durham County Council and Northumberland County Council can accept no responsibility for any inaccuracy contained therein. If you wish to use/copy any of the images, please ensure that you read the Copyright information provided.