Local History
Seaton Delaval (Northumberland)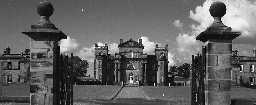 Seaton Delaval Hall. Photo by Northumberland County Council.
Seaton Delaval lies in south-east Northumberland, close to the North Sea coast.
The earliest remains are two
Neolithic
stone axes from
Seghill
and north-east of
Holywell
. Similar finds have been made all along the coastal plain of south and mid-Northumberland and are probably indicators of tree clearance in the area. A more mysterious
prehistoric
find is a
cup marked stone
in a late prehistoric settlement at Seaton Delaval; it is unknown how the slab reached this site, for it is some distance from the main areas where these have been recorded in the uplands. It may be associated with a possible
causewayed enclosure
north of Lookout Farm.
A
Bronze Age
cist
at Seghill is the oldest burial in the area. Inside the
cist
was an even older object, a
Neolithic
axe. An earth or stone mound may have marked the burial place, but no trace survives.
The earliest settlements are probably
Iron Age
or
Roman
period enclosures, all discovered by
aerial photography
. They are roughly rectangular in plan and had a ditch and slight bank around the outside. Inside, there would have been circular huts with yards for animals. These small farmsteads have been found at
Seghill
,
Seaton Delaval
and
Seghill Moor House
. Others have now been built over, such as at
Seghill
.
In
medieval
times there were villages at
Seaton Delaval
, and possibly
Seghill
and
Lysdon
. During the wars with Scotland, there was a need for defences and a number of
tower houses
were built to protect people from raids. The tower at
Seaton Delaval
was demolished long ago and replaced by
Seaton Delaval Hall
, but the vaulted basement of
Seghill Tower
survives in the cellars of an inn. One of the few other medieval buildings to remain is the
Church of Our Lady
. The Delaval family owned much of the land here. Their reforming spirit in industrial developments was matched by their taste for practical jokes and amusements.
Typical of the developments in this period was the building of
Seaton Delaval Hall
designed by Sir John Vanbrugh. The whole estate has many important buildings, including a
mausoleum
,
Starlight Castle
, an obelisk and follies, as well as formal and kitchen
gardens
. The
medieval
village at Seaton Delaval was removed from the immediate area of the Hall when the grounds were laid out and the
Church of Our Lady
was effectively used as a private chapel by the Delavals.
In the 18th and 19th centuries, farming was developing and the effects of the
Agricultural Revolution
can be seen in the new farms built at Lookout Farm and Seaton Village. The main industrial enterprises of the area were based on the coal and glass industries with many based around the
harbour
at Seaton Sluice. Further inland, collieries were established at
Seaton Delaval Colliery
,
Seghill Colliery
and
West Holywell Colliery
. Some of the coal was turned into coke at
Seghill
. Clays were also extracted at a
brickfield
south-west of Seaton Delaval. Such underground activities were not without their dangers and
New Hartley Colliery
was the scene of a disaster where over 200 people were killed.
Almshouses
were built at New Hartley to commemorate the disaster.
Disclaimer -
Please note that this information has been compiled from a number of different sources. Durham County Council and Northumberland County Council can accept no responsibility for any inaccuracy contained therein. If you wish to use/copy any of the images, please ensure that you read the Copyright information provided.