Local History
Stannington (Northumberland)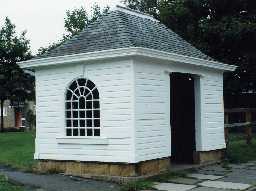 Stannington bus shelter. Photo by Northumberland County Council.
Stannington parish lies either side of the A1 Newcastle to Edinburgh road in south-east Northumberland. Most land is under agriculture, with woodland, some parkland and a scattering of small villages and farmsteads.
The earliest piece of evidence for human activity is a
Neolithic
stone axe
found on the Blagdon estate. This was a time when people were only just beginning to farm and lead a more settled way of life. The axe may have been used to chop trees down, making way for early farming.
Another piece of evidence exists for the
Bronze Age
. A
cist
was uncovered near Clifton containing human bones, but no settlements have been found.
The oldest settlements in the parish are
Iron Age
or
Roman
in date. They are all visible as
cropmark
enclosures, such as
North Whitehouse
,
south of Stannington Station
,
Clifton
and
New Horton Grange
and may be of either period. One of these, the enclosures south of Stannington station were excavated in 1961 and the small number of objects found probably date it to the
Roman
period. Inside these enclosures there were probably circular huts made of wood in which an extended family lived.
What Stannington was like in the
early medieval
period is unknown. However, the place-name element 'ing is thought indicative of
Anglo-Saxon
settlement, as in the name Stannington.
Medieval
sites are much better known through historic records. The proximity of
Newminster Abbey
near Morpeth led to the development monastic
granges
in the parish. They provided Newminster with food and materials, such as that at
Horton Grange
. Other monastic institutions included a
hospital
at Hartford Bridge. Secular estates also recognised the wealth of the area with a
manor
at
Bellasis
which served Morpeth. The pattern of medieval settlement was one of small villages and hamlets, such as
Coldwell
,
Dovecote Farm
,
Clifton
and
West Duddo
. Some have vanished entirely, others have
earthwork
remains and yet others have merely shrunk in size. Traces of the
medieval
ploughing called
ridge and furrow
survive as earthworks at outside Stannington village and at
Dovecote Farm
. These small villages were served by chapels, although the exact site of one at
Shotton
is unknown.
As well as farming, this was an area rich in minerals, especially coal. Industrial extraction of coal, gravel and stone took place
north of Whitehouse Farm
,
east of Netherton Park
and
north-east of Glororum
, respectively. The wealth that could be derived from the coal trade is well shown by the country estate of the Ridleys.
Blagdon Hall
was built in the early 18th century and set within
landscaped parkland
. To this was added a
deer park
, bounded by a
wall
to stop deer from escaping. The impact of developments in farming at this time can also be seen in the many fine farmsteads built in the parish, at Milkhope, Duddo Hill, New Horton Grange, and Glororum.
In the early 20th century, Blagdon has been added to by the most fashionable architects and designers of the age, including Edwin
Lutyens
and Gertrude
Jekyll
. The more therapeutic qualities of the countryside were deliberately utilised by Gateshead Borough who built a
psychiatric hospital
here incorporating the latest ideas for treatment in purpose-built buildings and landscaped grounds. Lutyens was also responsible for a number of other buildings in the parish, including Catraw and a pair of
bus shelters
. The natural resources of the parish have continued to be exploited and coal continues to be a commodity right into the 21st century.
Disclaimer -
Please note that this information has been compiled from a number of different sources. Durham County Council and Northumberland County Council can accept no responsibility for any inaccuracy contained therein. If you wish to use/copy any of the images, please ensure that you read the Copyright information provided.