Local History
Prudhoe (Northumberland)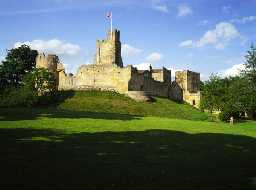 Prudhoe Castle (Copyright © Don Brownlow)
Prudhoe lies in south Northumberland, on the south bank of the River Tyne, where a mixture of historic landscapes is laid on one another. Much of the parish is urban and some industrialised, though there is also room for some arable farming.
The first trace of human activity in the parish is at
Broomhouse Lane
where
Mesolithic
flints
were found. Mesolithic people were probably hunters and gatherers who moved through the landscape according to the seasons and no sign of their settlements have been founding this area.
A single stone, carved with
cup and ring marks
, is the only evidence from the
Neolithic
period so far found in Prudhoe. It was found in excavations at
Prudhoe Castle
but where it originally came from is unknown.
More evidence is known from the
Bronze Age
. A number of finds have been discovered, including axes from
Edgewell
and
Mickley
, as well as ritual monuments. Burials found at
Broomhill
and
Broomhouses
are both in characteristic locations overlooking a river valley. The settlements where these people lived have not been found, but were probably groups of circular huts.
Little is known about Prudhoe in the
Iron Age
and
Roman
periods. An enclosure may have occupied the knoll on which
Prudhoe Castle
now stands but few details are known.
In
medieval
times Prudhoe was the centre of the large Umfraville family holdings, known as a
barony
.
Prudhoe Castle
was the centre of the estate. The present town of
Prudhoe
is ultimately descended from a hamlet that clustered around the castle. This town was of some note ' it had a
chantry
dedicated to St Thomas, although it never it had its own church. There were also exclusive areas set aside for the pleasure of the Umfravilles and their guests, such as a
deerpark
on Hagg Bank, formed in the curve of the Tyne. Some small villages and hamlets that are recorded in medieval documents have since become shrunken or
deserted medieval villages
, such as
Eltringham
.
In the 16th and 17th centuries, the threat from border
reivers
must have been felt in this part of the county. At
Eltringham House
a defensive farmhouse was built to protect people and livestock, and is a type of building now known as a
bastle
.
The parish remained rural through much of the 17th and 18th centuries. On hand to record much of the everyday life and nature of that period was the wood-engraver Thomas Bewick (1753-1828), born at
Cherryburn
and buried at
Ovingham church
. He was responsible for the engravings for many 18th and 19th century books including Aesop's Fables, General History of Quadrupeds and British Birds. The illustrations of Bewick and his Tyneside workshop are an unrivalled record of the natural and everyday lives of people at this time. This was also a time of revolution in agricultural methods and practice. New farm buildings were built for specific functions, such as those attached to
Durham Riding Farmhouse
.
However, the very landscape and natural life that Bewick admired and illustrated were to be hammered in the following centuries by many industrial developments. Bewick himself was critical of these developments, such as coal mining at
Mickley Colliery
, with clay and
fireclay
extraction at
Edgewell
and separate
fireclay works
. Further on-site processing with
coke ovens
, using poorer quality coals, were also set up at
Prudhoe
and surface clays were taken from the Hagg Bank area and used in the construction of the Whittle Dene water and reservoir schemes. The Newcastle to Carlisle railway line passes through the parish, with a station at Prudhoe.
This industrial expansion of Prudhoe was matched by the development of Prudhoe itself. Accommodation was provided by new pit village style houses, as at
Pit Houses
. Several new churches were built to cater for all portions of the rapidly expanding population and included an early
Wesleyan church
and
Catholic church
at Prudhoe and a parish church at
Mickley
. This period also saw the building of a
bridge
across the River Tyne ending centuries of tradition using
Ovingham ferry
.
Disclaimer -
Please note that this information has been compiled from a number of different sources. Durham County Council and Northumberland County Council can accept no responsibility for any inaccuracy contained therein. If you wish to use/copy any of the images, please ensure that you read the Copyright information provided.