Local History
Wark (Northumberland)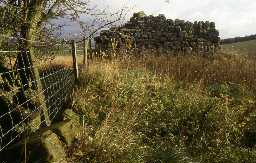 Ruined bastles at Hesley Hirst, Wark. Photo by Peter Ryder.
Wark is a large parish mostly on the west bank of the River North Tyne. There is a mixture of upland rough grazing, forestry plantations and border mosses and lowland pastures and farmland.
Mysterious
cup-marked
stones carved by
Neolithic
people are the oldest manmade features in the parish. They have been found in a variety of locations in the parish and a series are situated on
Ravensheugh Crags
. A
Bronze Age
four poster stone circle
, called
The Goatstones
, stands on the same crags and it may be that the Neolithic rock art had a long-lived significance.
More
Bronze Age
objects have been found in burial mounds and
cairns
, such as the
mound
opened in the 19th century across the river from Wark village that contained pottery and a
flint
knife. A single
jet
bead was found at
Warksburn
and bronze axe from
Ramshaw Mill
. Close to the ritual site of
The Goatstones
is a small
settlement
made up of unenclosed
round houses
.
More settlements are known from the
Iron Age
, although only one has been excavated
south of Bridge House
. Here, archaeologists found a
palisaded settlement
and a timber
round house
. The site was also occupied into the
Roman
period and excavations revealed cobbled and flagged yards, circular huts, hearths, and small stone-lined storage pits. An
Iron Age
tribal boundary may have survived in the form of the
Black Dyke
. Although it is not a continuous ditch and rampart, the ditch lies on the west as if to anticipate an attack from this direction, it runs for several kilometres from the North Tyne to the South Tyne through the parish of Wark; the monument is debateable and little known.
Life probably changed very little between the Iron Age and Roman periods. In some cases people continued to live in the same places and through excavation archaeologists have discovered a sequence of settlement on the same site, for example near
Bridge House
. These were small farmsteads where an extended family group may have lived and worked. The main difference would have been houses built in stone rather than timber and the Roman farmsteads tend to be squarer than their earlier counterparts. Such farmsteads survive as
earthworks
on
Leek Hill
and near
Hole House
. The origins of a Roman
altar
found at
Wark
are unknown; it may have come from a small shrine or was robbed from
Hadrian's Wall
.
In
medieval
times Wark was the head of the Lordship of Tynedale and was part of Scotland in the 13th century. People lived in small villages and hamlets at
Hetherington
,
Shitlington
,
Gofton
and
Wark
. In the summer months, when animals were grazed on higher pasture, shepherds lived in small buildings called
shielings
, and the remains of some of these structures survive as
earthworks
in the more remote parts of the parish, such as
Blacka Burn
and
Watergate Sike
. Those who could afford it built more substantial places in which to defend themselves and their property, for example the
tower house
at Wark village. There is also a possibility that there was a motte
castle
at Wark although this remains unproven. The remains of a medieval
deer park
are still present in place-name evidence with
Park End Farm
recalling the limits of this old park. Landownership and routes across the mosses were marked by wayside crosses.
Comyn's Cross
is named after a local chieftain who is said to have visited the legendary King Arthur at
Sewingshields Castle
.
In the 16th and 17th centuries the eruption of feuds between local border families meant that this part of the country was a wild and lawless place with raids made against people and property. These raiders were known as Border reivers and the only protection was through the building of strong defended farmhouses called
bastles
. At least seven were built in Wark parish. Those at
Horneystead
,
Mortley
and
Hesley Hirst
survive only as ruins but others were converted into less defensive buildings when the threat of reivers disappeared in the 18th century.
The presence of large areas of moss meant that there was a ready source of fuel in the area. Special structures called
peat stands
were built to dry the cut peat. Similar structures, called
stack stands
, were built to store winter fodder and many survive as earthworks dotted across the parish. Agricultural improvements and developments in the 18th and 19th centuries saw
lime kilns
built at
Newtonrigg
to improve the soil. Several farmsteads were built, including
Ramshaw's Mill and farm
, as well as a number of isolated farmsteads at
Oxcleugh
,
Hawk Hurst
and
Susie's Walls
. In the 19th century Wark village was a thriving community with a range of trades and professions.
Disclaimer -
Please note that this information has been compiled from a number of different sources. Durham County Council and Northumberland County Council can accept no responsibility for any inaccuracy contained therein. If you wish to use/copy any of the images, please ensure that you read the Copyright information provided.