Local History
Meldon (Northumberland)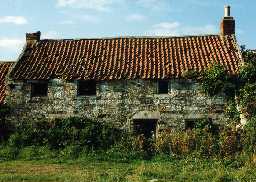 'Old Walls' at Newton Underwood. Photo by Northumberland County Council.
The parish of Meldon lies in south-east Northumberland, a few miles west of
Morpeth
. Archaeological remains in the parish date from
prehistoric
times to the 20th century.
There were probably people living in the parish in early prehistoric times but so far the earliest piece of evidence is an
Iron Age
settlement
on the top of Whittle Hill. Here, an extended family probably lived in round wooden houses. People might have continued living here in
Roman
times and life probably changed very little between these two periods. The main difference would have been houses built in stone rather than timber and the Roman farmsteads tend to be squarer than their earlier counterparts. Two of these farmsteads survive as
cropmarks
at
Molesden West
and
Molesden
but other cropmarks scattered across the parish may also date from this time, such as at
Riplington
,
Meldon Lane House
and
Cockshot Wood
.
Although Meldon lies north of
Hadrian's Wall
there are two possible Roman fortlets at
Longshaws
and the Devil's Causeway Roman road runs close to the north-west corner of the parish.
In
medieval
times people lived in small villages and hamlets, such as
Meldon
,
Molesden
and
Rivergreen
. Remains of the medieval fields, called
ridge and furrow
, survive around some of these settlements even today. In Meldon village a
church
was built in the 13th century that is still in use as the parish church, although it was restored in the 19th century.
Northumberland was a war torn place in medieval times as England and Scotland fought against each other. Those who could afford it built strong, defensive places to live, such as
Meldon Tower
. A curious building in the parish is
Newton Underwood Tower
where the fragment of a possible tower has been incorporated into a later building, possibly a
bastle
, and later converted into an 18th century farmhouse.
The medieval wars and later fighting between border families gave way to a more peaceful time in the 18th and 19th centuries. Now, as people began to feel more secure, some were able to invest more in their surroundings. A large country house was built, called
Meldon Hall
and
parkland
created around it, on the site of an earlier deer park. The 17th century Deerkeeper's Cottage stands by the park. Farming also began to develop more productive and innovative methods and series of fine farmhouses and planned farms were built in the 18th and 19th centuries, such as at Meldon Lane House, Meldon Park Farm and East Molesden. Other economic activities developed, including a water mill at (Newton N11225} and quarrying at Nunriding. Communications were also improving and two new bridges were built over the
Nun Burn
and the
River Wansbeck
in the 18th century.
Meldon did not escape without some trace of more modern conflicts and at least one
pillbox
was built here in World War II (1939-45).
Disclaimer -
Please note that this information has been compiled from a number of different sources. Durham County Council and Northumberland County Council can accept no responsibility for any inaccuracy contained therein. If you wish to use/copy any of the images, please ensure that you read the Copyright information provided.