Local History
Eglingham (Northumberland)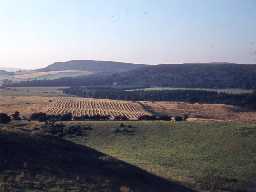 View over Eglingham parish towards Old Bewick (Bewick parish). Photograph by Harry Rowland.
Eglingham parish lies in north Northumberland, not far from the North Sea coast. It has a varied landscape ranging from moorland to rolling farmland with many well-preserved archaeological monuments dating from
prehistoric
period onwards. Apart form the village of Eglingham, the present settlement pattern is one of scattered farmsteads.
Little is known about the parish in early
prehistoric
times and the first piece of evidence belongs to the
Neolithic
or
Bronze Age
. This was a time when people began to lead a more settled way of life and when farming began. At Charlton Mires they left behind two
flint flakes
showing that
flint
was worked to make tools, perhaps for hunting or preparing food; and a bronze
spearhead
from Shipley Farm may have been a prized weapon. Although we don't know where Bronze Age people lived in the parish there is lots of evidence to show where and how they were buried. Cairns,
barrows
and
cists
have been discovered containing remains of inhumations and cremations together with pottery vessels and other objects. One of the largest
cairns
was excavated in South Charlton where ten burials were discovered.
In the
Iron Age
we get our first glimpse of where prehistoric people lived in the parish. A
promontory fort
and two other settlements, in
Camp Plantation
and
Honey Hill
, were built for defence, all choosing strategic locations on a hillside or promontory. Other settlements may have stood on the glacial mounds that run alongside the present A1 trunk road but their features are now mixed up with
medieval
ridge and furrow
earthworks and are difficult to distinguish. There were probably farmsteads on lower ground too, whose features have been flattened by ploughing and land improvement in more recent times.
Little probably changed in the area during the
Roman
period as Eglingham lies well north of
Hadrian's Wall
. Two small
settlements
on Beanley Moor are typical of this period with stone-built enclosures and
hut circles
.
After the Roman army left Britain in the fifth century AD little is known about Eglingham until
medieval
times. The parish seems to have been quite densely settled with small villages and hamlets such as
Harehope
,
Eglingham
,
North Charlton
,
South Charlton
,
East Ditchburn
,
West Ditchburn
and
Old Shipley
. This suggests the parish was extensively farmed to support so many people. The surviving part of the
open field system
at North Charlton shows the characteristic medieval pattern of
ridge and furrow
cultivation. The spiritual side of life also seems to have been well served as there are records of a medieval chapel at
South Charlton
, the
Chapel of St Giles
at North Charlton, and the parish
Church of St Maurice
at Eglingham that dates back to the 13th century. Another important medieval establishment was the
leper hospital
at Harehope.
However, these were also times of warfare and unrest in the border region of England and because of this a
tower house
was built at
South Charlton
and at
East Ditchburn
for the protection of the villagers. Feuds between border families continued into 16th and early 17th centuries and those who could afford it built defensive homes called
bastles
to protect themselves, such as
The Old School House
at South Charlton.
The
post-medieval
period was a relatively prosperous time for the people of the border region of England and, with the arrival of more peaceful times, people invested more in their surroundings. A number of new farms were built in the 18th and 19th centuries in response to new inventions and farming methods, such as Cockhall. This prosperity is also reflected in the number of fine farmhouses built in the parish at West Linkhall, East Ditchburn, and West Ditchburn, as well as the country houses of Charlton Hall, and
Eglingham Hall
. During this 'Age of Improvement' lime became popular as a near universal fertilizer. It would have been made and prepared on the farm in a
lime kiln
such as once stood at
Shipley West Field
and
Tarry Farm
. Roads were also improved at this time and a number of new bridges were built over the Shipley and Eglingham Burns.
More recently, during World War II (1939 to 1945), a series of
pillbox
es were built around the village of Eglingham.
Disclaimer -
Please note that this information has been compiled from a number of different sources. Durham County Council and Northumberland County Council can accept no responsibility for any inaccuracy contained therein. If you wish to use/copy any of the images, please ensure that you read the Copyright information provided.