Local History
Ewart (Northumberland)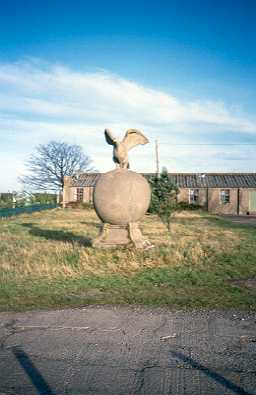 Eagle and globe carved by Polish airmen in world War II at Milfield Airfield. Photo by Northumberland County Council.
Ewart lies in north Northumberland in an area known as the Milfield Basin, on the edge of the Cheviot Hills. This is an area of sand and gravel deposits and such areas are often rich in archaeological sites that survive as
cropmarks
. Ewart is no exception and there are remains of all periods.
The earliest evidence we have for human activity belongs to the
Mesolithic
with collections of
flint material
found in various places across the parish. At this time people lived by hunting animals and birds and picking wild fruits and grains; farming did not become common until the
Neolithic
. A number of Neolithic
stone axes
found here suggest that people were beginning to clear trees or undergrowth, perhaps so they could plant crops. This was also a time when people began to look for a more settled way of life and, although this was a very gradual process and few examples are known, a building excavated at
Milfield Airfield
may be from this period and a temporary settlement has been discovered at
West Plain
. As well as the domestic side of life, we also have evidence of a more complicated landscape of ritual monuments such as the henges at
Marleyknowe
,
Ewart Park
and
West Plain
, a
cursus or droveway
and
pit alignments
. Indeed, the Milfield Basin seems to have been a focus for social and technological change in the Neolithic period and the area is littered with cropmarks.
In the
Bronze Age
there was still much going on in the Milfield Basin. Tools, such as stone axes, were still in use helping to clear the land for cultivation. We even have examples of prehistoric
ploughmarks
made by an
ard
found at excavations on Milfield Airfield. There are also many burial sites, some surviving as cropmarks and others known from antiquarian records.
Only one
Iron Age
settlement has been found in the parish, a camp at
Sandy House
. Again, it is only known from cropmark evidence. A more unusual discovery from this time was a
Greek coin
from the third century BC.
There are no Roman sites in Ewart and the next evidence we have is from the
early medieval
period. At this time there was a settlement at
Thirlings
. The evidence from archaeological excavations here has been use to help build reconstructions of
Anglo-Saxon
buildings at Bede's World (see
www.bedesworld.co.uk/farm/farmbld.htm
). There is also evidence from the 19th century of a possible early medieval burial from
Galewood
.
The area was settled in
medieval
times with villages recorded at
Ewart
,
Coupland
and
Lanton
. A
chapel
is also recorded at Ewart, though little else is known about it. The remains of a
tower
survive as a mound at Lanton and another tower was built at
Coupland Castle
in the late 16th century. Such fortified buildings show the troubled nature of the Border regions of England and Scotland in the medieval and early
post-medieval
periods.
As the Border region became more peaceful during the 17th and 18th centuries it was a relatively prosperous time for this region of England. Some families felt confident enough to build less defensive homes, such as at
Ewart Park
. It was built from scratch with no defensive overtones at all and a
landscaped park
was created at the same time. Farming has played a very important part in the economic life of the parish and the wider area known as Glendale. It was here that Northumberland's farming revolution was most apparent in the later 18th century. New farms were built at
Sandy House
and
Coupland
and this spirit of improvement continued into the 19th century. A number of industrial activities also took place alongside farming, such as brick making at
Ewart Park
. One of the most prominent features in the parish is a
memorial
on Lanton Hill. At one time there was a possibility that a railway line would be introduced and to that end a station and hotel were built at
Ewart Newtown
in the late 19th century. Unfortunately the railway never came to Ewart and the buildings were converted to other uses. More recently, Milfield Airfield was built in World War II and two former
military camps
are known near Coupland. Ewart lies at the gateway to the north Cheviots and Milfield Airfield is now home to the Borders Gliding Club.
Disclaimer -
Please note that this information has been compiled from a number of different sources. Durham County Council and Northumberland County Council can accept no responsibility for any inaccuracy contained therein. If you wish to use/copy any of the images, please ensure that you read the Copyright information provided.