Local History
Craster (Northumberland)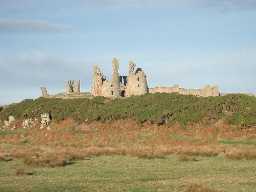 Dunstanburgh Castle. Photo by Andy Brown, 2003.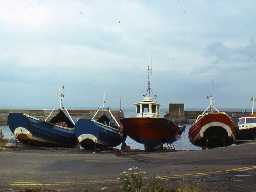 Boats at Craster Harbour. Photo by Harry Rowland, 1983.
The parish of Craster lies midway along the Northumberland coast, with a rocky coastline on one side and rolling fields on the other. A whinstone ridge runs through the parish from Craster Heughs to Scrog Hill and sloping beds of whinstone also form the rocky coast. The village of Craster has grown up around a natural haven, now enhanced by an early 20th century harbour. From the village, views along the coastline are dominated by the remains of
Dunstanburgh Castle
which lies a short walk to the north. Craster is famous for its traditionally oak smoked kippers and salmon.
The earliest evidence we have for human activity belongs to the
Mesolithic
period, a time before farming was introduced. A number of flint tools have been found on the rocky crags called
The Heughs
near Dunstanburgh Castle and on
Craster Crags
. Amongst this material was debris thought to be from a flint working site, a place where Mesolithic people would have sat and made their tools by chipping at lumps of flint. A number of
Neolithic
arrowheads have also been found on The Heughs.
It is surprising to find that we know next to nothing about
prehistoric
burial and settlement in Craster. No
Bronze Age
sites have been discovered and it is not until the
Iron Age
that we find the first traces of settlement. This lies on top of Craster Heugh and is a
defended settlement
protected by natural cliffs and by earthen ramparts. A number of other possible settlement sites are known from
aerial photographs
and survive as
cropmarks
at
Mustardhill Plantation
and
Hips Heugh
.
For most of the
Roman
period much of Northumberland would have been far beyond the frontier of the empire. This means that few Roman goods would have reached this far north. However, a number of Roman finds have been made at
Dunstanburgh Castle
and include millstones from Germany and pottery. This suggests that there may be a small Roman fort or signal station beneath the
medieval
castle that dates to the time when the frontier was further north along the
Antonine Wall
in Scotland.
Like much of Northumberland there is nothing known about this area in the
early medieval
period. It is only after the Norman Conquest that once again remains of the past can be recognised in the parish. Medieval villages at
Craster
and
Dunstan
are documented from the 13th century and remains of their
medieval fields
can be seen in places. These are recognisable from the distinctive
ridge and furrow
pattern that they leave. The remains of a medieval building are incorporated into
Dunstan Hall
and may have been a refuge or lookout rather than a truly defensive building such as
Craster Tower
. This was built in response to the threat from raiders across the border in Scotland, as well as from Northumberland. In contrast,
Dunstanburgh Castle
seems to have been built as a bolthole by Thomas Earl of Lancaster, who spent most of his life in opposition to King Edward II. Later, it became a royal castle when Henry Bolingbroke usurped the throne of Richard II to become Henry IV in 1399. In addition to these domestic and defensive buildings, there is also a medieval reference to a
hospital
at the north end of the parish, possibly for lepers.
As the region became more peaceful in the 17th and 18th centuries, growing confidence meant that buildings such as
Craster Tower
were developed into less defensive country homes. Here, a new house was effectively built on one side of the tower and gardens laid out.
Craster has been a fishing haven since at least the early 17th century and, until relatively recently, this was the mainstay of economic life here. The herring industry was of particular importance to Craster, as it was to other fishing communities along the coast at Holy Island, Beadnell and Seahouses. The fish were cured in smoke houses to produce the famous Craster kippers; today the fish is more likely to come from the west of Scotland. The creation of the harbour in the early 20th century helped to create a new, if short-lived, industry exporting whinstone taken from local
quarries
; the quarries closed in the 1940s. As well as fishing and quarrying, agriculture also played its part in the economic life of the parish. During the late 18th century, when improvements to agricultural systems were at their height, and in the years that followed, lime was used to neutralise acid soils. In Craster there are a number of probably 19th century kilns that testify to this at
Dunstan Hill Farm quarry
and
Dunstan Square
.
In more recent times, the events of two world wars have left their mark in the parish. A
memorial
in Embleton Cemetery commemorates Norwegian sailors who died when their ship was torpedoed by a German submarine in 1917. During World War II, a
radar station
was built on The Heughs and a number of
pillbox
es were built to defend the parish from German invasion. Many of these still survive today between Embleton Bay and the castle and one example at
Cushat Knock
incorporates a
foxhole
.
Today the village is a centre for tourism, with access to coastal walks and Dunstanburgh Castle.
Disclaimer -
Please note that this information has been compiled from a number of different sources. Durham County Council and Northumberland County Council can accept no responsibility for any inaccuracy contained therein. If you wish to use/copy any of the images, please ensure that you read the Copyright information provided.