Local History
Warkworth (Northumberland)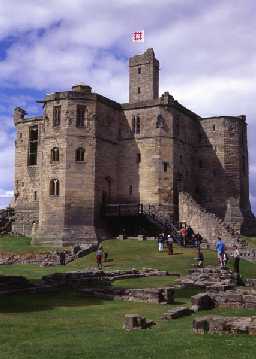 Warkworth Castle (Copyright © Don Brownlow)
Warkworth lies on the coast in mid-Northumberland with the River Coquet running west-east through the parish. The most prominent and well known monument is
Warkworth Castle
but there are important
prehistoric
remains as well.
The earliest remains are
prehistoric
with two possible
Mesolithic
finds: a small
stone hammerhead
from near Hartlaw and an
axe
from South Side. Unfortunately, it is possible that both may have been brought to the parish from elsewhere in road-building materials. Nonetheless, the river mouth area of the Coquet, despite the changes in sea level, is likely to have been a favoured spot. Mesolithic hunter-gatherers could have hunted winter wildfowl and other migrating species.
Warkworth is famous for an unusual
Neolithic
cup and ring
marked cliff that rises from the River Coquet at
Morwick
. The mysterious motifs contain rare spirals forms as well as simple cup marks. Their meaning is unclear but could have been religious or linked to tribal boundaries.
The oldest burials are some
Bronze Age
cists
found at
Hilly Law
and
near Sturton Grange
. These funerary monuments may originally have had covering mounds of earth or stone, forming a
barrow
or
cairn
over the top. Another burial site is that of a
ring ditch
at
Walkmill
. So far no settlements have been found of this period.
It has been suggested that in the
Iron Age
there was a promontory fort on the site that is now occupied by the
medieval
castle
. Although there are parallels at other places in Northumberland for settlements dominating both the coast and guarding the entrance to the Coquet this idea has still to be proved.
Warkworth lies well north of Hadrian's Wall and although no
Roman
settlements or other sites have been found there a number of finds. They include
Samian pottery
from a Warkworth garden, a small
statuette
, some
coins
and an
altar
from Gloster Hill. How they came to be in Warkworth is not known. A
quern
from Warkworth Moor shows that grain was being processed and probably grown nearby although no farmstead has been found. However, a series of
cropmarks
could be Iron Age or Roman settlements such as those on the steep
banks of the Coquet
,
near Morwick
,
near New Town
and
east of Morwick Hall
.
It is often assumed that there was an
Anglo-Saxon
settlement
at Warkworth. The evidence for this relies heavily upon the
fragments of a cross
found in the Coquet, historical and artefactual evidence for a
church
and the tradition of a palace for the Northumbrian king at a site now overlain by the
castle
. Although this is not improbable, no trace has yet been found.
Warkworth flourished in the
medieval
period when it was a harbour and market town. It lies in a loop of the River Coquet and still retains an essentially medieval layout, with a medieval defended
bridge
and
gatehouse
at the north, leading up to the
castle
on the highest point at the south end of the village. The
Church of St Lawrence
is a fairly complete Norman church and quite unique in the county. An elaborate cave
hermitage
across the river from the castle is one of the best preserved examples in Britain. There was also a
deer park
, whose boundary bank survives in places as an
earthwork
, but other sites connected to the castle, such as a
foundry
and
salmon fishery
, are only known from historical documents.
Outside the medieval town there were rural settlements, including
Sturton Grange
which belonged to the
Cistercian
Newminster Abbey
in Morpeth. Newminster was also granted a
saltpan
at Warkworth although the site is unknown. Plans for a new settlement at
Birling
were begun but it didn't last long. Other villages and hamlets stood at
Low Buston
and
Brotherwick
.
The threat of Border
reivers
elsewhere in the county in the 16th and early 17th century may have influenced the building of a
bastle
at
Butlersdon House
. Later, it was converted into a less defensive house.
In the
post-medieval
period the landscape changed in a number of ways. At the
Dissolution of the Monasteries
in the 16th century, the
Sturton Grange
area was divided between a number of landowners. Later, in the 18th and 19th century most of the buildings seen in Warkworth today were built. This was also a period of new ideas in farming practice and, as these developments spread, many fine farmhouses and farm buildings were built to incorporate them, including Maudlin, New Barns, Northfield, Southside and Sturton Grange.
Beyond farming and now tourism, Warkworth has changed little. The railway came through the parish in the 19th century and, although the station is now private houses, the East Coast main line still crosses the Coquet on a fine
viaduct
. More modern defences may seem puny against the might of Warkworth Castle but a small
pillbox
near Gloster Hill played its part in the defence of Britain in World War II (1939-45).
Disclaimer -
Please note that this information has been compiled from a number of different sources. Durham County Council and Northumberland County Council can accept no responsibility for any inaccuracy contained therein. If you wish to use/copy any of the images, please ensure that you read the Copyright information provided.