Local History
Whalton (Northumberland)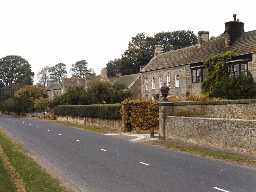 View of Whalton village. Photo Northumberland County Council, 1990.
Whalton is a small parish in central Northumberland. Its main settlement is the pretty village of Whalton. There is a wide variety of archaeological remains surviving both as
earthworks
and
cropmarks
as well as a fine range of buildings in the farms, hamlets and villages of the parish.
An
Iron Age
hillfort
on
Camp Hill
is the oldest settlement site in the parish. Life probably changed very little in the
Roman
period, the only difference seemingly in the shape of enclosures as they become squarer in Roman times. Many enclosures seen on
aerial photographs
as
cropmarks
may date to this time, such as
Shilvington Bridge
,
Dead Men's Graves
,
Well House
and
Windyside Plantation
.
What Whalton was like in the
early medieval
period is unknown. However, the place-name element 'ing is thought indicative of
Anglo-Saxon
settlement, as in the names Riplington and Shilvington.
Medieval
remains are more widespread. There were villages at
Ogle
,
Shilvington
,
Twizell
and
Riplington
. The incursion of Scottish raiders meant that fortifications were needed; indeed one of the highest points in the parish is called Watch Hill and hints at the vigilance needed at this time. Towers were built at
The Old Rectory
in Whalton, at
Kirkley
, and at Ogle where the Ogle family built
Ogle Castle
. The strength of religion was strong in the medieval period and the Ogles sponsored alterations to the
Church of St Mary Magdalene
as the main parish church, and a further possible chapel at
Ogle
itself.
The conflicts did not cease with the Union of the Crowns in the
post-medieval
period. Indeed, Henry Cavendish (a descendent of the Ogles) was a fierce supporter of the
Royalist
cause in the
English Civil War
. This period saw the modification of
Ogle Castle
to imitate the popular French styles of building, complete with
moats
, though much has since been lost.
In
post-medieval
times many villages shrank or became deserted altogether, such as
Twizell
.
Earthworks
survive to show the layout of house platforms, field systems and roadways at
Shilvington
as well as a [cock pit]. Apart from developments in agriculture in the 18th and 19th centuries and some fine new farm buildings, little changed in the parish. One of the few industries in the parish were
Belsay Tilery
and Whalton Mill.
A the beginning of the 20th century, Edwin
Lutyens
carried out work at Whalton Manor House. However, the tranquillity of Whalton parish did not escape World War II (1939-1945), when Tranwell Airfield was built.
Disclaimer -
Please note that this information has been compiled from a number of different sources. Durham County Council and Northumberland County Council can accept no responsibility for any inaccuracy contained therein. If you wish to use/copy any of the images, please ensure that you read the Copyright information provided.