Local History
Whitton and Tosson (Northumberland)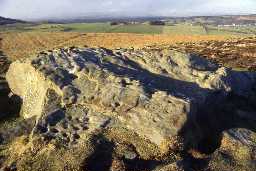 Cup and ring marked stone at Lordenshaws. Photo by Northumberland County Council.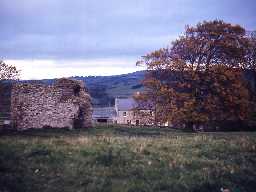 Tosson Tower. Photo by Harry Rowland.
Tosson parish is an irregular shape and has a landscape that ranges from flat
haugh
lands to the Fell Sandstones. Archaeologically, there are a rich variety of sites and finds from prehistoric rock carvings to World War II pillboxes.
Prehistoric
remains abound, with many burial and ritual monuments dating to the
Neolithic
and
Bronze Age
periods. They include mysterious Neolithic rock carvings called
cup and ring marked stones
. They are common on the Fell Sandstones of Northumberland with examples near the
Whitton Burn
and
Lordenshaws
. A
standing stone, stone setting and cup and ring marked stone
near Whittondean Farm suggests various activities were taking place around the
prehistoric
rock art.
Many
Bronze Age
cairns
have been discovered by excavation in the late 19th and 20th century. These have often revealed a central
cist
with pottery and
flint
grave goods
, such as at
Spital Hill
. A
cist cemetery
discovered at Great Tosson revealed four
cists
during quarrying operations in the 19th century. A famous
Bronze Age
hoard
was found beneath the summit of Simonside and a
bronze axe
has been found near Burgh Hill. Presumably there were some Bronze Age settlements in the area but they remain undiscovered.
Iron Age
and
Roman
settlement is more widespread. The
hillfort
on
Burgh Hill
overlooks the village of Great Tosson and Roman farmsteads on
Birky Hill
and
east of Spital Hill
overlook the lower slopes and river lands. The extent of Roman influences is unknown in Tosson, but it is likely some contacts were made as the
Roman road
linking
High Rochester
and
Low Learchild
runs further to the north and Roman glassware has been found in a neighbouring parish at
Witchy Neuk hillfort
.
One of the few
early medieval
sites in this part of Northumberland was found at Great Tosson. A Bronze Age
cist
had been reused from a
cist cemetery
. Unfortunately no settlements have been discovered from this period.
In
medieval
times, people lived in small villages and hamlets at
Newton
,
Little Tosson
,
Ryehill
and
Great Tosson
. Farms were established at
Newtown West
and a monastic sheep farm at
Whittondean Farm
. Later, temporary buildings called
shielings
were built for shepherds tending sheep on high summer pastures, such as at
Croppy's Hole
. A medieval
hospital
was established at
Allerdene
in the 13th century, under the auspices of
Newminster Abbey
in Morpeth. Northumberland suffered during the wars with Scotland in the 13th and 14th centuries and some people built defensive homes called
tower houses
at
Great Tosson
and
Whitton
.
The turmoil of the medieval period was echoed in the
post-medieval
period with fierce feuds between border families called
reivers
. Those who could afford it built defended farmhouses called
bastles
and many of these survive across western Northumberland either as ruins or as conversions into later, more comfortable farmhouses, such as
Newtown Bastle
,
Whitton Farmhouse
and
Whitton Farm North Cottage
.
Agricultural improvements in the 18th and 19th century can be seen in the
lime kilns
at
Whitton Glebe Farm
and
Tosson
. Several industries sprang up with
lead mining
and
coalmining
at Whittondean and a
woollen mill
at Tosson. In more recent times, a line of
pillboxes
was built at
Carterside
,
Ryehill
and
Newtown
, forming the Coquet Stop Line.
Disclaimer -
Please note that this information has been compiled from a number of different sources. Durham County Council and Northumberland County Council can accept no responsibility for any inaccuracy contained therein. If you wish to use/copy any of the images, please ensure that you read the Copyright information provided.