Local History
Rothley with Hollinghill (Northumberland)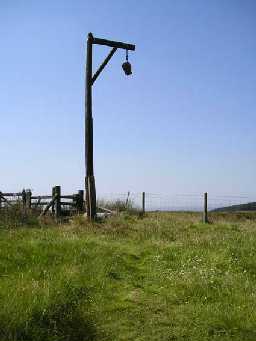 Winter's Gibbet. Photo by Northumberland County Council, 2003.
Hollinghill parish lies in central Northumberland with a landscape ranging from high moorland to stream valleys. Harwood Forest covers a large part of the upland areas. It has a variety of archaeological and historic sites dating from
prehistoric
times to the 19th century. Many lie on the side of an enigmatic hill called Simonside and part of the parish lies in the Northumberland National Park.
The first evidence of people in the parish comes from the
Bronze Age
. Here they built their burial and ritual monuments, leaving them to be rediscovered by antiquarians and archaeologists more than 3500 years later. A number of different burial sites have been found including
Greenleighton
,
Spy Law Beacon
and
Simonside
. Some of the cairns have been excavated, revealing
pottery
and a
cremation
. Another pot was found in a
cist
. More evidence of the rituals carried out by Bronze Age people come from the discovery of a
stone circle
at Fontburn Reservoir and numerous
cup and ring marked stone
s. These strange carvings are found across the parish on outcrops of rock, although most are only cup marks.
Until the
Iron Age
there has been no evidence of the places prehistoric people lived, except for a possible settlement by the
Black Burn
. This was a time when there seems to have been an increasing level of conflict, shown in the appearance of defended settlements such as
Manside
. This well-preserved settlement is protected by three
ramparts
and two ditches. Inside, there would have been a number of circular wooden houses for an extended family. When the settlement was excavated in 1959 evidence was found for people living here in the
Roman
period too. Life probably changed very little between these two periods, although the houses were rebuilt in stone. The small farmsteads built in the Roman period are generally squarer than their earlier counterparts and a number survive as
earthworks
, such as
East Greenleighton
and
Harwood
.
Hollinghill lies north of
Hadrian's Wall
and there are no Roman military sites in the parish. However, an unusual bronze cup found at
Harwood
in the 19th century shows that some contact or trade took place.
Although nothing remains today, a burial site found in the 19th may have been
early medieval
in date. It is the only piece of evidence for people living in the parish at this time.
In
medieval
times Hollinghill was an area well used by travellers along medieval routeways. Their paths were marked by wayside crosses such as
Steng
and
Manside
. A
beacon
stood on Greenleighton Hill in the 13th century and may have been part of an early warning system for Scottish invasions. Nearby, there is a tradition of a
chapel
at Greenleighton and probably a
village
too, but the remains are fragmentary and uncertain. Other villages and hamlets may have existed in the parish, such as
Fallowlees
, where there are traces of medieval
ridge and furrow
cultivation. The apparent lack of settlement may be connected with the existence of the Forest of Rothbury and the presence of a
deer park
, created here in 1275.
The medieval period was a time of warfare between England and Scotland and, elsewhere in the County,
tower houses
were built for protection. However, in Hollinghill there are no examples of tower houses. But, as family feuds and reivers made this a lawless part of Britain in the 16th and 17th centuries, those who could afford it built defensive farmhouses, or
bastles
, to protect themselves and their livestock; for example at
Fallowlees
and
Morrelhirst
. Traditionally, there is said to have been a well in Rothbury Forest called (Reiver's Well N10710}, although no-one knows its location today. A curious survival is
Winter's Gibbet
, a replica of an old gibbet where murderers were hanged.
The 18th century brought with it a more peaceful way of life and people began to build less defensive houses and took on the new ideas in farming. This led to buildings such as
Blagdonburn House
and new farm buildings at
Greenleighton
. The boundaries of land ownership seem to have been formalised and marked at this time; a
monumental gateway
was built on Liniel Law at the entrance to the Wallington Estate; and a series of
boundary stones
was erected between the estates of the Duke of Portland and the Duke of Northumberland. Communications were also improving and the Hexham to Rothbury turnpike, opened in about 1751, runs through the parish together with its
milestones
. Later, in the 19th century, the railway age arrived in this part of Northumberland with the North British Railway, and a fine
viaduct
was built to carry it over the River Font.
Disclaimer -
Please note that this information has been compiled from a number of different sources. Durham County Council and Northumberland County Council can accept no responsibility for any inaccuracy contained therein. If you wish to use/copy any of the images, please ensure that you read the Copyright information provided.