Local History
Hauxley (Northumberland)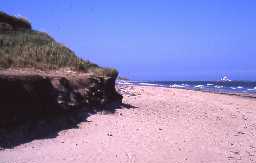 Low Hauxley beach and Coquet Island. Photo by Northumberland County Council.
Hauxley parish lies on the North Sea coast in mid-Northumberland. The parish is relatively low lying and made up of fertile farmland and a rocky island called Coquet Island, which lies about one kilometre offshore. The area has a long history with remains dating from
prehistoric
submerged forests to 19th century coal mines.
The earliest evidence of human activity in the parish comes from a collection of
Mesolithic
and
Neolithic
flint
tools. Some were found in excavations at
Low Hauxley
and others were found when a farmer was ploughing his fields near
Hauxley Cottage
. This was a time when people moved about the countryside hunting and foraging for food and only gradually did they begin to settle down and begin farming the land.
So far, we have no idea where these early people lived and it is only with the
Bronze Age
that the first structures made by prehistoric people some 3500 years ago come to light. As the coastline has moved since prehistoric times, a
burial cairn
at Low Hauxley originally stood some way from the coast on an area of high ground beside a marshy area of alder and oak. Here, several burials have been excavated by archaeologists, some in stone
cists
and others without, buried under a mound of earth and stones.
The first evidence of where people lived often comes from the
Iron Age
and
Roman
periods. Here, in Hauxley, only one possible
enclosure
is known and this has been destroyed by modern opencast coal mining. It is quite probable that other settlements and enclosures once existed here but have been destroyed in a similar manner and gone unrecorded.
Unusually for Northumberland, we have evidence of people living and worshipping here in
early medieval
times. Coquet Island was the site of a
monastic cell
, first recorded in AD684 when St Cuthbert met Elfleda, the abbess of Whitby. There was probably some sort of monastic establishment here already and an
Anglo-Saxon grave slab
is one of a number of stray finds found on the island showing people were here before the Norman Conquest.
After the Norman Conquest, in the
medieval
period, Coquet Island was given to the prior and convent of Tynemouth. A
Benedictine foundation
was established here before AD1125 but the remains that stand today are 15th century. On the mainland, people may have lived in the village of
Hauxley
but more research is needed to be sure of its medieval origins.
Even on a remote island, the warfare between England and Scotland at this time meant that a
tower
was built to protect the monks on Coquet Island. After the
Dissolution of the Monasteries
in the 16th century the buildings on Coquet Island fell into ruins and the island was used by coin counterfeiters.
Being an easterly parish, Hauxley seems to have escaped the troubles inflicted on other parts of the County in the 16th and 17th centuries by border reivers. As the rest of the County began to settle into a more peaceful way of life in the 18th century, so in Hauxley people invested in their surroundings. Fine country houses such as
Hauxley Hall
were built. On Coquet Island, a
lighthouse
was built for the safety of ships.
Industries also developed, such as coalmining at
Radcliffe
together with a
waggonway
to transport the coal. Somewhat later than in other parts of the County, a model farm was built at High Hauxley in 1914. Coalmining and farming have continued to be the main economic activities in the parish and, despite restoration, much of the landscape has been transformed by large scale opencast coalmining in the later 20th century.
Disclaimer -
Please note that this information has been compiled from a number of different sources. Durham County Council and Northumberland County Council can accept no responsibility for any inaccuracy contained therein. If you wish to use/copy any of the images, please ensure that you read the Copyright information provided.