Local History
Hartburn (Northumberland)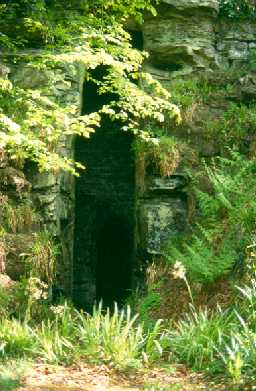 Grotto by the Hart Burn.
Hartburn parish lies in the lowlands of central Northumberland not far from the county town of Morpeth. The River Wansbeck and the Hart Burn cross the parish from west to east with rolling farmland between. The burn cuts through a picturesque wooded ravine around Hartburn village which is the largest settlement in the parish. The earliest archaeological remains are thousands of years old and the most recent are from the early 20th century.
A
Neolithic
grave
is the oldest archaeological find in the parish and was found near Hartburn village. It is the only evidence we have from this period, a time when people were beginning lead a more settled way of life and when farming began. Another
burial
found near Angerton is from the
Bronze Age
and the woman buried there had some objects with her including knives, a hammer and some beads. Unfortunately, we do not know where these
prehistoric
people lived as no villages or houses have been found yet.
What we can see is how the
Iron Age
people lived in this area. When archaeologists excavated a
settlement
near Hartburn they found more than 30 round houses. They were probably not all in use at the same time but people may have lived here almost continuously from the Iron Age to the
Roman
period. There are two more Roman homesteads in the parish near
Angerton
and
Angerton Steads
and some other cropmarks may also be possible settlements. As well as the native settlements, there may be a
Roman camp
at Hartburn, close to the Devil's Causeway Roman road.
After Roman rule ended in Britain in the fifth century we know little about the parish until
medieval
times. That is, apart from the parish
Church of St Andrew
. Although much of the church is medieval it was built around an earlier one that was here before the Norman Conquest in 1066. Unfortunately we do not know anything about the early villages or hamlets that people lived in at this time.
By
medieval
times there were a number of hamlets and villages in the parish. They include
East Thornton
,
Low Angerton
,
West Thornton
and
Angerton
. The
Knights Templars
also owned some land here, at
Temple Thornton
where they had a chapel. There is still a medieval field system at
Howlett Farm
where the curving strips of
ridge and furrow
cultivation survive as
earthworks
. A rare survival in Hartburn is the
Old Vicarage
, part of which is built around a 13th century house. Another part of the vicarage is a 16th century tower, and reminds us of the troubles in the border region of England and Scotland at this time.
In medieval and early
post-medieval
times, the border was very unsettled and sometimes a dangerous place to live. There were battles, skirmishes and raids taking place on both sides. Those who could afford it built defensive homes to protect themselves such as at the
Old Vicarage
. Later, as feuds between border families arose, some people built special defended farms called
bastles
. Very few seem to have been built in the east of the county, but there is one at
Low Angerton
.
As the Borders became a more peaceful area in post-medieval times this part of England grew fairly prosperous. People started to invest more in their surroundings, new roads were built and new farming methods were introduced. For example, planned farm buildings were built at Marlish Farm. Country houses were built, such as Angerton Hall in 1842, and
parkland
laid out around it. In the 18th century a vicar of Hartburn, Dr John Sharpe, built a
grotto
by the burn and a
schoolhouse
in the village. In the churchyard are some of the finest 18th century carved headstones in the county. Another vicar of Hartburn was the well-known 19th century local historian John Hodgson who was buried here in 1845. Some industries also sprang up, such as
tile works
at Meldon, coal mining at
West Marlish
, lime burning at
Angerton
and dove rearing at
Temple Thornton
as well as any number of stone quarries. But farming was probably the most important activity in the parish and still is.
Disclaimer -
Please note that this information has been compiled from a number of different sources. Durham County Council and Northumberland County Council can accept no responsibility for any inaccuracy contained therein. If you wish to use/copy any of the images, please ensure that you read the Copyright information provided.