Local History
Edlingham (Northumberland)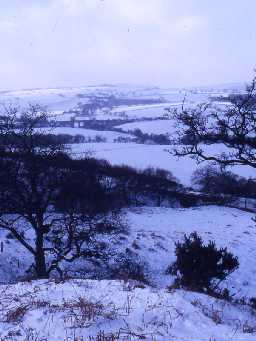 View across Edlingham towards the castle. Photograph by Harry Rowland, 1986.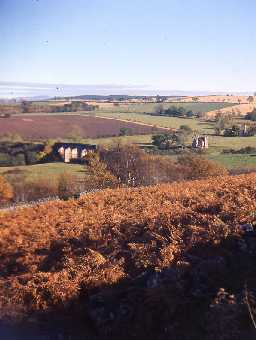 View across Edlingham towards the castle. Photograph by Harry Rowland.
The parish of Edlingham lies in central Northumberland in a landscape of scarps and vales. The village of Edlingham lies at the centre of the parish and is now a small settlement of mainly 19th century farmhouses and cottages. It lies in the valley of the Edlingham Burn that runs through the length of the parish from its source on Rimside Moor to the River Aln. The village is overlooked by Corby's Crags on the east and, with high ground to the west and south too, it is only to the north that the vale widens out to the valley of the River Aln. In Old English, Edlingham means 'homestead of the sons of Eadwulf' and has its origins in the
Anglo-Saxon
period.
The earliest evidence we have for human activity belongs to the
Mesolithic
period, a time before farming was introduced and long before the name `Edlingham' had been thought of. A
rock shelter
at Corby's Crags has provided a range of worked flints of this date and a number of
flints
were found near Wellhope before the area became afforested. These tools may have been used to hunt animals and prepare food. At this early stage in history people lived by hunting animals and birds and picking wild fruits and grains; farming did not become common until the
Neolithic
. A
polished stone axe
from this period has been found at Edlingham and another from near
Low Learchild
, but nothing is known about where the people who made these tools lived. Some of their rituals can only be guessed at from the decorated stones, known as
cup and ring marked stones
, to be found at
Corby's Crags
,
Lamp Hill
,
Lemmington Wood
,
Millstone Burn
and
Roughley Wood
.
Later, in the
Bronze Age
, people began to make objects from metal as well as stone. A small
axe
found at Newtown Farm may have been used as a wedge for splitting timber. Other remains connected with ritual or religious practices have also been discovered in the parish. A number of
Bronze Age
burials have been discovered, including a cremation in a pottery vessel buried in the floor of a
rock shelter
. Others have been found in
cists
at
Lemmington Hall
and
Battle Bridge Farm
. Despite all this evidence about
Bronze Age
people, we have no evidence of their houses or villages in the parish. This may be because these settlements were not of such substantial construction and their remains may not have survived more recent farming practices.
In contrast, the
Iron Age
is well represented in the parish, with at least five settlements known. Many have survived as upstanding
earthworks
such as the defended settlement near
Rough Castles
that is enclosed by a
rampart
built of earth and stone and a ditch. Another example near
Rough Castles
seems to have been only half finished as the ditch and rampart on one side were never completed. Two more possible settlements are known from
aerial photographs
and survive as
cropmarks
at
Edlingham
and
Edlingham Glebe
.
Little seems to have changed in the area during the years of
Roman
rule. Edlingham lies well north of Hadrian's Wall, the northern edge of the Roman Empire for much of its time in Britain. Most people probably continued to live in the same kinds of homes as during the Iron Age, as is shown at a
settlement
on Corby's Crags where a
Romano-British
settlement overlies an Iron Age one. One possible slight difference to these settlements is their overall shape, in the Iron Age they were usually roughly circular, but in Roman times they are often more rectangular. A
homestead
near Lemmington Branch is just such a settlement. As well as the native settlements, Edlingham has two military sites and the Devil's Causeway Roman road passing through it. Excavations of the fort at
Learchild
showed that there were two successive forts there. They were probably part of the move northwards into Scotland in the second century AD. The discovery of a marching camp in the 1990s at
Edlingham Glebe
is probably further evidence of this push north by Roman troops.
Following the end of Roman rule in Britain in the early fifth century, we know there must have been some
Anglo-Saxon
settlement here as the name 'Edlingham' has its origins in
Old English
. It was first mentioned in AD737 as one of several villages given to the monks of Lindisfarne. The site of a
battle
between the Danes and Saxons in AD875 is traditionally held to lie in the parish. More tangible remains lie in the
medieval
Church of St John the Baptist
, itself thought to stand on the site of an Anglo-Saxon church whose outline has been suggested by
dowsing
. Here, part of an eighth century
cross shaft
is preserved. Yet, perhaps the most exciting relic of this time is a set of
runes
carved on a rock in
Lemmington Wood
.
In
medieval
times a number of villages are known to have existed at
Abberwick
,
Lemmington
Learchild
and
Edlingham
as well as perhaps
Newtown
. This suggests the area was extensively farmed to support so many people. Indeed, part of the open field system survives at
Abberwick
and comprises headlands,
furlongs
and extensive
ridge and furrow
cultivation. The discovery of a
quern
near
Battle Bridge
clearly shows that grain was being processed and was probably grown nearby. However, these were times of warfare and unrest in the borders of England and Scotland and because of this a number of fortified buildings were built, including the fortified manor of
Edlingham Castle
. The need for warnings of attacks and raids may have also made it necessary to build a
beacon
.
As the region became more peaceful in the 17th and 18th centuries, growing confidence meant that buildings such as
Lemmington Hall
were built developing a once fortified tower into a country house. At the same time the
parkland
was laid out. During the
post-medieval
period a number of industries developed alongside farming. A
millstone quarry
was worked on Corby's Crags as well as
mining
and on
Alnwick Moor
lies the largest concentration of
bell pits
in the North East of England. The 19th century saw the arrival of the railway, with the opening of the Cornhill Branch line in the 1880s. A striking reminder of this line, which finally closed in 1953, is the
viaduct
near Edlingham Castle. Today, Edlingham is probably best known for its castle which is in the guardianship of English Heritage.
Disclaimer -
Please note that this information has been compiled from a number of different sources. Durham County Council and Northumberland County Council can accept no responsibility for any inaccuracy contained therein. If you wish to use/copy any of the images, please ensure that you read the Copyright information provided.