Local History
Wheatley Hill (County Durham)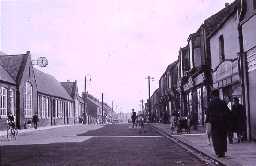 Wheatley Hill © DCC 2007
Although Wheatley Hill is now mainly a pit village it has a long history. It is possible that there was an
Anglo-Saxon
settlement here. The placename comes from the
Old English
for 'clearing in the woods where the wheat grows'. A silver ring was found here during the digging of foundations in Wheatley Hill. It has the words 'Ring, I am called' carved onto it in
runes
. It has spaces for three small gems, though only one is now filled, with red glass. This ring is probably of Anglo-Saxon dates, and is likely to have been made in the later 8th century.
There was certainly a medieval village here. Rock Farm was probably the site of the manor house and it still contains the last remains of this house. Many of its medieval (1066 to 1540) remains came to light in 1991, during building work. The house is built mainly of limestone. It is a traditional long house in plan. Written records note that Wheatley Hill was owned by the Bainbrigg family from at least 1471 until 1621 when it was sold. The Bainbriggs were a noted Durham family holding public office and were successful traders on Tyneside. The construction of the house most likely occurred during their ownership of the Wheatley Hill estate perhaps in the first part of the 16th century.
Although the area remained mainly an agricultural area, the rise of the coal industry in the 19th century lead to the arrival of coal mines in the area. Wheatley Hill Colliery was founded in 1869 and led to the village growing in size. A railway, an offshoot from the Sunderland and Hartlepool Line, served this colliery. At its height it employed over 1800 men and boys. The mine finally closed in 1968.
The
First World War
is commemorated on memorials at a number of sites throughout the village, most visibly on a memorial
cross
outside of Wheatley Hill Heritage Centre (moved to this position from its original location outside of the Miners' Hall. The
heritage centre
itself was converted from a chapel of rest in 2002 and contains various features dedicated as war memorials. Other memorials can be found in the local
church
and Working Men's
Club
, each detailing the efforts made by those of Wheatley Hill who served their country in war.
The identification of Historic Landscapes in Durham Project; Chris Blandford Associates
Thornley and Wheatley Hill Village Atlas Project 2012 - 2015; The Archaeological Practice Ltd
Disclaimer -
Please note that this information has been compiled from a number of different sources. Durham County Council and Northumberland County Council can accept no responsibility for any inaccuracy contained therein. If you wish to use/copy any of the images, please ensure that you read the Copyright information provided.