Vindolanda Roman fort (Henshaw)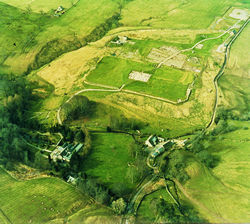 Vindolanda from the air. Photo by Vindolanda Trust.
The fort which stands at Vindolanda today is the final fort built here by the
Romans
in the third century AD. Beneath it are six earlier forts, including one stone fort and five timber ones. Archaeologists have been excavating at Vindolanda on and off since the early 19th century but the most concentrated period of work has been from the 1970s to the present day. Many extraordinary discoveries have been made here, not least pieces of wooden writing tablets with handwriting in ink still intact. They have survived for nearly 2000 years because the site is damp and waterlogged. These conditions have also meant that other organic materials such as cloth, leather and wood have survived.
The first fort at Vindolanda was built of timber in the mid 80s AD and writing tablets tell us that it was garrisoned by the first
cohort
of Tungrians. The second fort was built in about AD90 and was much larger, housing the ninth cohort of Batavians. The third fort was a slight alteration of the second and writing tablets from this fort include the well known letters between the commanding officer and his wife. This fort was probably abandoned quite quickly with the soldiers being called for duty on the River Danube in Germany in AD102 or 103. After a short time, Vindolanda was brought back into use and a new timber fort built but to a different design. Archaeologists are not yet sure when the final timber fort was built here but it was in use some time between AD112 and AD150. It would have been here when Hadrian was emperor and one particular courtyard building found in recent excavations may have been built for him and his staff when they visited the northern frontier in AD122. This fort was replaced by one built of stone, probably in the 140s or 150s AD. It was finally replaced by another stone fort built in the early third century AD, whose remains lie about six metres above the earliest fort. The remains of various buildings from the final fort have been conserved and include the headquarters building, latrines, and the north, east and west gates. Nearby are
Roman cemeteries
and a
civilian settlement
. This is a
Scheduled Monument
protected by law.
EXCAVATION, Excavations at Chesterholm-Vindolanda: third report 1936; Birley, E
EXCAVATION, Some Excavations at Chesterholm-Vindolanda 1949; Birley, R
EXCAVATION, Some excavations at Chesterholm-Vindolanda 1956; Birley, R
FIELD OBSERVATION, Ordnance Survey Archaeology Division Field Investigation 1966; R W Emsley
DENDROCHRONOLOGICAL SURVEY, Tree-ring analysis of oak timbers from 1991 excavations at Vindolanda 1993; English Heritage
AERIAL PHOTOGRAPHY, Hadrian's Wall Landscape from Chesters to Greenhead 1999; T GATES
WATCHING BRIEF, The Stanegate at Viindolanda (test pits and watching brief) 2014; Alan Williams Archaeology
GROUND PENETRATING RADAR SURVEY, Ground penetrating radar survey of two areas at Vindolanda Roman fort 2016
THEMATIC SURVEY, Small wetlands: identification, significance and threats to their loss. A review of the literature 2016; Historic England
Disclaimer -
Please note that this information has been compiled from a number of different sources. Durham County Council and Northumberland County Council can accept no responsibility for any inaccuracy contained therein. If you wish to use/copy any of the images, please ensure that you read the Copyright information provided.