Local History
Ingram (Northumberland)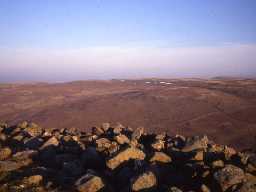 Views over Ingram parish. Photo Northumberland County Council 1991.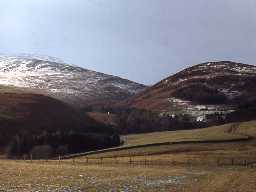 View of Linhope, Ingam. Photo by Harry Rowland.
The parish of Ingram lies to the west of Alnwick on the River Breamish, where it emerges from a valley in the edge of the Cheviots into the wider landscape of Whittingham Vale.
Although there may have been settlers here as early as the
Mesolithic
, it is not until the
Neolithic
that the first evidence for human occupation is found. A
stone axe
was found in a garden just to the north of the river in Brandon. This may have been used to clear trees to make simple fields. To the south-west of the parish on the site of
Wether Hill hillfort
traces of Neolithic occupation have been found. Although no building remains have been located, archaeologists uncovered a pit containing several fragments of pottery in 1997.
With the wider spread of farming in the
Bronze Age
there are many more remains to be seen in the area. Small clusters of typical
hut circles
have been found at
Cochran Pike
,
Cat Crag
and
Turf Knowe
. Like most settlements of this period these are not surrounded by an outer bank or ditch. These early settlements are often found surrounded by traces of an early system of fields. An excellent example of this can be seen close to
Linhope Burn
, which is thought to be the highest Bronze Age settlement in Northumberland. The remains of two hut circles are surrounded by a large group of fields, banks and boundaries; some were over 4m wide. Slight remains of
cord rig
, the ridged traces of
prehistoric
ploughing can also be seen here. Similar remains can also be seen near
Het Burn
. In these upland areas stones often had to be cleared from the land to allow the fields to be ploughed. These stones were then piled into heaps, or cairns. These can be seen at several sites, for example on the northern slopes of
Greenside Hill
. Not all such cairns were simply piles of stone. Several were probably used as burial mounds. A probable burial mound can be seen on the summit of
Wether Hill
. Others can be seen on
Turf Knowe
and
North Knoll
. In the lower lying areas of the parish to the east many of these burial mounds have been destroyed by 19th and 20th century ploughing. However, sometimes early remains were recorded by archaeologists in the 19th century. For example, a prehistoric pot and a spearhead were found in a now lost barrow to the north of
Brandon White House
.
In the
Iron Age
people began to live in settlements surrounded by an outer enclosure, usually a stone and earth bank. Several of these are recorded in Ingram, for example at
Cochrane Pike Camp
. However, unusually in this parish there are more remains of
hillforts
. These are larger settlements surrounded by more than one earth rampart. Hillforts stand on the top of
Old Fawdon Hill
,
Castle Knowe
and
Prickly Knowes
. As in the Bronze Age many of these settlements are surrounded by traces of early farming, such as
Old Fawdon Hill
.
Although the Romans invaded in the first century AD, Ingram was far to the north of the
Roman
border for much of the period of Roman occupation, and life changed little. People continued to live in simple enclosed settlements, such as those found on
Brough Law
and
Hartside Hill
. Because the Romans had so little effect on life, when their rule came to an end there were few changes. Despite this, definite evidence for
early medieval
occupation is rare in the Cheviots. Nonetheless, Ingram is exceptional in having the remains of at least two possible settlement sites. An
Anglo-Saxon
knife of seventh century date was found within the earlier settlement at
Brough Law
. This suggests that occupation may have continued through here from the Roman period. At
Ingram Hill Camp
it is probable that the rectangular buildings found within the Iron Age defences may have been early medieval houses. It is also possible that the iron spear found in the round cairn at
Turf Knowe
may have been part of an early
Anglo-Saxon
burial, though similar iron spears were also used in the Iron Age and Roman period. It is likely that by the eighth or ninth century many of the hilltop settlements had fallen out of use, and new villages were being formed in the lower lying areas. Many of these settlements have
Old English
names, such as Ingram, which comes from the early word `Angr' meaning `grassland'.
In the
medieval
period there were several small villages in the parish, such as
Branton
,
Fawdon
and
Linhope
, but now there is little to see at these sites, as they became deserted in the
post-medieval
period. There were also several small upland farmsteads, such as the one to the
west of Brough Law
and that
north of Linhope
. These may have been shepherd's
shielings
, and not occupied all year round. The main church in Ingram is dedicated to
St Michael
. The earliest parts date to the 12th century. There was also probably a 12th century chapel at
Brandon
, though it was completely rebuilt before it fell into ruins. It was only the early font which suggested the 12th century date. The tower of St Michael's church was strongly built and may have acted as a stronghold during the Scottish raids in the late medieval period, and would also have been a defence against the later Border Reivers. A
small tower
was also built near the church as a fortified home for the parish priest.
In the more peaceful times following the 16th century farming began to expand, and the 18th and early 19th century was a period of much growth. New, large farmhouses were built, such as those at
Brandon
and
Branton West Side
. These were often accompanied by new
farm buildings
. Other changes included the growth of new churches in competition with the Church of England; a
Presbyterian Chapel
was built in Brandon in the mid-18th century.
Although the area has remained primarily agricultural, its position on the edge of the Northumberland National Park has led to an increasing number of tourists in the area coming to enjoy the wildlife and countryside. This has become particularly important since the opening of the most northerly of the National Parks visitor centres, where tourists and visitors can come and learn about the history and natural heritage of this beautiful area.
Disclaimer -
Please note that this information has been compiled from a number of different sources. Durham County Council and Northumberland County Council can accept no responsibility for any inaccuracy contained therein. If you wish to use/copy any of the images, please ensure that you read the Copyright information provided.