Local History
Hebron (Northumberland)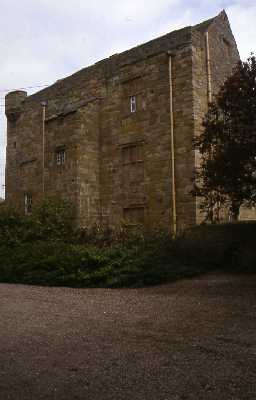 Cockle Park Tower. Photo by Peter Ryder.
The civil parish of Hebron lies just north of Northumberland's county town of Morpeth. It is fertile farmland cut by two of the county's major roads, the A1 from Newcastle to Berwick and A697 to Coldstream. The main settlement is Hebron village, a small community of less than 1000 people, with other hamlets and farms scattered across the parish.
Some
cropmarks
on
Silver Hill
are probably the oldest archaeological remains in the parish. Here the outlines of a possible
Iron Age
or
Roman
period native settlement and field system have been found by
aerial photography
. Quite a few other cropmarks lie in the parish and may be of a similar date. Some are circular, such as
East Benridge
, and others have straight sides, such as
Warreners House
and
Butterwell
. Archaeologists think that the curved enclosures are probably Iron Age and the straight-sided ones Roman. Hebron lies north of
Hadrian's Wall
and these settlements show that native people were living here before and after the Roman invasion of AD43. Although we can't be sure how the Romans affected their lives, they seem to have carried on farming their fields and living in small settlements. A
Roman coin
was once lost in the parish and found again in the 19th century.
After the Norman Conquest in 1066, the area was split into baronies and
manors
. One of these was Bothal which included the manor of Cockle Park. There were also settlements at
West Benridge
and
Benridge
. The
earthwork
remains of a
ridge and furrow
field system have survived near
East Shield Farm
but it is difficult to say whether this is medieval or
post-medieval
in date. The
Church of St Cuthbert
was first built in the 12th century although it has been altered later.
Probably the most spectacular building in the parish is
Cockle Park Tower
. It was built in about 1520 in response to the continued warfare along the English-Scottish border. This was a time of battles, skirmishes and raids on both sides of the border and those who could afford it built defensive homes to protect themselves.
As the Borders became a more peaceful area in post-medieval times, this part of England grew fairly prosperous. People began to invest in their surroundings, new roads were built and new farming methods were introduced. A fine new farmhouse was built at East Shield Hill and at West Shield Hill in the 18th century. A number of small industries also grew up, such as
tile works
and a
saw pit
. Hebron also lies in an area rich in coal and on the edge of the parish is a
shaft and mound of spoil
probably from 19th or 20th century coalmining activity. A reminder of 20th century troubles comes with some World War II
pillboxes
, also at the edges of the parish, near
Mitford
and
Morpeth
. To return to farming, the Duke of Portland created an experimental farm at Cockle Park in the 19th century and this association with research and development has continued to the present day through its use by the Department of Agriculture at Newcastle University (
www.ncl.ac.uk/afrd/about/cockle.htm
).
Disclaimer -
Please note that this information has been compiled from a number of different sources. Durham County Council and Northumberland County Council can accept no responsibility for any inaccuracy contained therein. If you wish to use/copy any of the images, please ensure that you read the Copyright information provided.