Local History
Cresswell (Northumberland)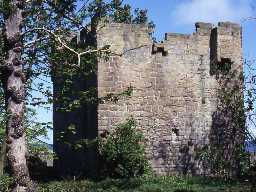 Cresswell Tower. Photo by Northumberland County Council, 1995.
Cresswell parish is located on the Northumberland coast just south of the wide sweep of Druridge Bay. The parish contains archaeological remains stretching back over 6000 years, although most visible to anyone passing through the parish is the
medieval
tower on the edge of a caravan park.
The earliest remains found so far in the parish are a collection of thousands of
flint tools
found at Lyne Hill near Lynemouth. These vast collections of
prehistoric
tools are the discoveries of a number of different collectors, but the huge numbers do suggest that our prehistoric ancestors once used this area regularly. Perhaps Lyne Hill was an ancient settlement, now buried and forgotten?
The landscape in prehistoric times looked different to the landscape in Cresswell today. We can still see the remarkable survival of partially
submerged forest
lying in peat deposits at Blakemoor Links. This former prehistoric forest can give us an idea of how the coast once looked covered with oak and alder trees.
The archaeological evidence increases for the
medieval
period.
Cresswell Tower
was the home of the Cresswell family in the 14th and 15th centuries. In the 18th and 19th centuries newer houses were built alongside the tower to update and expand the house, but today only the medieval tower survives.
The Cresswell family, later known as the Baker-Cresswell's, were also responsible for many of the other buildings of archaeological interest in the parish.
Cresswell Hall and gardens
were built between 1821-5, but structural cracks very quickly appeared and the Hall was demolished in the 1930s. Today the
stable block
and some of the gardens still survive. It was also the Baker-Cresswell family who had the
Church of St Bartholomew
built in 1836.
Cresswell Home Farm
also dates to about this time and is a good example of a
planned farm
including a
smithy
, a
threshing barn
, and an
engine house
complete with a chimney, which doubles up as a
dovecote
. The farm is now derelict.
Disclaimer -
Please note that this information has been compiled from a number of different sources. Durham County Council and Northumberland County Council can accept no responsibility for any inaccuracy contained therein. If you wish to use/copy any of the images, please ensure that you read the Copyright information provided.