Local History
Bewick (Northumberland)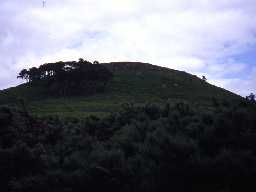 View of Old Bewick hillfort. Photo by Northumberland County Council, 1991.
The small parish of Bewick lies on both sides of the River Breamish. Old Bewick sits to the north-east and New Bewick to the south-west. Unusually, the name of the river actually changes from the Breamish to the Till as it flows through this parish. This is recorded in an old rhyme:
'The foot of Breamish and the head of Till,
Meet together at Bewick Mill.'
The village of Old Bewick sits at the foot of Bewick Hill. Beyond, Bewick Moor rises up to
Blawearie
where one of the most important
Bronze Age
burial mounds
in the county stands. Although this mound is over 3000 years old it is not the earliest remains in the parish. Traces of occupation belonging to the
Mesolithic
period, over 5000 years old, have been found at
Haughterslaugh
and
Fourmat Know
. At both sites the flint tools used by people from this period to hunt and prepare food have been found. At this early stage in history people lived by hunting animals and birds and picking wild grains and fruits; farming did not become common until the
Neolithic
period. Stone tools belonging to this period, including a stone hammer have been discovered in the parish, though no remains of any houses or villages have been found.
In the late
Neolithic
or early
Bronze Age
the inhabitants of this area carved a series of unusual
stone marks
on rocks on Bewick Hill in the area around Bewick Fort. The purpose of these carvings is unknown, but it is possible they may have been made for religious purposes. Perhaps the hill was a holy site to the people who lived in the area surrounding it.
In the
Bronze Age
farming became more common. No villages are known, but the piles of stones made from stones cleared from Bronze Age
fields
are still to be seen between Hepburn Moor and Old Bewick Camp. A Bronze Age grave had been dug into one of these mounds, and many other burials from this period have been found in the area.
In the Bronze Age we have the remains of many graves but no settlements, however, the opposite is true for the
Iron Age
. There are no burials from this period, but many villages and
hillforts
. The
hillfort on Old Bewick Hill
is very well preserved. It includes two stone-walled enclosures next to each other sitting on the edge of a steep cliff. From above the camp looks a little bit like a pair of spectacles! Another large Iron Age
hillfort
was built on Bewick Hill Moor. As well as these fortified settlements a number of smaller sites have been seen as
cropmarks
on
aerial photographs
. Although none of these have been excavated by archaeologists, they appear to be simple Iron Age
farms
, perhaps only lived in by one large family.
Little seems to have changed in the area in the centuries of
Roman
rule. Old Bewick is far to the north of Hadrian's Wall, the northern edge of the Roman Empire for much of its time in Britain. Most people probably continued to live in the same kinds of homes as during the Iron Age. One possible slight difference is the shape of the wall or bank surrounding these small farms. In the Iron Age they were usually curved, but in the Roman times they are often more rectangular in shape. It is possible that the settlement below the hillfort at Old Bewick surrounded by just such a rectangular bank may belong to this period.
Many parishes have no remains from the
Anglo-Saxon
period. However, at New Bewick the remains of an important early
Anglo-Saxon village
have been found. The
cropmarks
of fields can be seen, and archaeologists uncovered the remains of a small building. This village was probably lived in during the early Anglo-Saxon period (about AD410 to 700). In the later Anglo-Saxon period they may have set up new villages such as Bewick. We know Bewick must have been an Anglo-Saxon village as its name means `Bee-farm' in
Old English
. The main farm may have been famous for its bees when honey and beeswax were more important than they are now. Before sugar was brought to Britain in the 17th century honey was the only sweet thing many people ever tasted. The
church
at Old Bewick was certainly built in this period as an
Anglo-Saxon stone cross
was built into the church.
In the Middle Ages (1066 to 1500), the monks of St Albans were given permission to hold a market at Bewick. An old
cross
marking the site can still be seen. At the end of the Middle Ages, during the 16th and 17th centuries this area was often raided by the Border
reivers
. An account sent to London of a raid on 11 August 1587 reads '400 of East Tevedale took up Old Bewick and carried away 500 oxen and kyne (cows), 600 sheep, 30 horses and mares. On same night over 40 took away from Reveley and burnt a house, 200 sheep, 30 kyne and oxen, 15 horses.' Because of all these raids a fortified
tower house
was built. It was first mentioned in 1509 and stood as a ruin for many years.
Once more peaceful times came the area was mainly a centre for farming. Across all of England the late 18th and early 19th centuries were very good times for farming. Many farmhouses built with money made at this period can be seen in the parish, such as
New Bewick Farmhouse
and
Old Bewick Farmhouse
. The parish still remains a quiet and peaceful area, relying on farming.
Disclaimer -
Please note that this information has been compiled from a number of different sources. Durham County Council and Northumberland County Council can accept no responsibility for any inaccuracy contained therein. If you wish to use/copy any of the images, please ensure that you read the Copyright information provided.