Local History
Ancroft (Northumberland)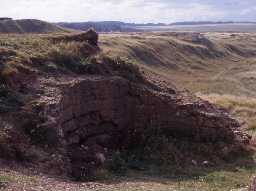 Cocklaw Dunes lime kiln, Ancroft. Photo by Glasgow University.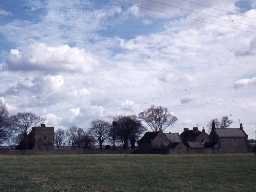 Ancroft village. Photo by Harry Rowland.
The parish of Ancroft is located in far north-east of Northumberland, between Berwick-upon-Tweed and Lindisfarne. It borders the North Sea and is skirted by extensive sand dunes to the south-east. As well as the main village of Ancroft in the centre of the parish, there is another village, Scremerston, in the north of the parish. Like many areas of Northumbria Ancroft suffered badly from raiding in the
medieval
period. In the later centuries, although agriculture was important, the parish was a centre for industries such as coal mining and shoe and clog making.
The earliest evidence for human activity in Ancroft belongs to the
Bronze Age
. Signs of a series of burials are found in a broad band running north through the parish. A
bronze knife
was found in a mound near Cheswick and pottery, of a kind often buried with the dead, has been found at
Scremerston Hill
and
Ancroft
. Despite all this evidence for death and burial in the Bronze Age, no settlement sites have been found. Houses and villages of this period were often simple settlements, without surrounding enclosures. This means they are easily destroyed by later farming, and are hard to see on
aerial photographs
.
This pattern is reversed in the
Iron Age
and
Roman
periods. Although a number of possible Iron Age and Roman settlements are known, there is no evidence for any burials. Unlike
Bronze Age
settlements the banks surrounding Iron Age and Roman villages often survive, either as
earthworks
or
cropmarks
. The dead were probably disposed of in a way that leaves no remains.
Although the parish is close to Holy Island, an important
Anglo-Saxon
monastery, there is little surviving evidence from the
early medieval
period. However, many of the place-names belong to this period. Ancroft, for example, probably comes from the
Old English
words for the 'single or lonely croft.' Clearly, the area is occupied, even if no traces have been left for the archaeologist.
When we reach the
medieval
period, with its many written records, it is clear that the parish contained many thriving settlements. As well as the surviving villages of Scremerston and Ancroft, there were also thriving villages at
East Allerdean
,
West Allerdean
,
Cheswick
,
Goswick
and
Haggerston
. However, from the 13th century many of these villages began to decline in size, because of the continuous border raids from Scotland. These dangerous times are reflected in the number of fortified towers that were built as places of refuge. The best preserved of these is
Haggerston Castle
, though at least three others were built in this parish alone. Even some churches were fortified, and the tower of
St Anne's Church
was heavily defended.
After James I became king of England and Scotland, some of these villages revived, but in 1667 Ancroft was struck by the Plague, and many people died. This may have caused the village to shrink in size, and many earthworks in the village show how big the village once was.
In the 18th century the area had returned to prosperity, with some of the larger settlements expanding at the expense of the smaller hamlets, which often became completely deserted. The main industry was making wooden shoes and clogs for the army and navy. In this period, mining also became more important. It was at its peak in the late 19th and early 20th centuries, when several collieries could be found in the parish. Another major industry was quarrying and burning limestone. This made lime, which was used to improve the quality of the soil. New farming techniques like this helped make the 18th and early 19th centuries a time of great wealth for farmers. The money they made was often spent on new farm building and houses, many of which can be seen in the parish.
Although far from any conflict, World War II (1939-45) still reached Ancroft. There was a fear that Germany might try and invade Britain, and many coastal defences were built. A series of pillboxes were built along the coastline, and large concrete tank traps were put in place. However, they never had to be used, and peace has returned to Ancroft.
Disclaimer -
Please note that this information has been compiled from a number of different sources. Durham County Council and Northumberland County Council can accept no responsibility for any inaccuracy contained therein. If you wish to use/copy any of the images, please ensure that you read the Copyright information provided.