Chesters Roman fort (Humshaugh)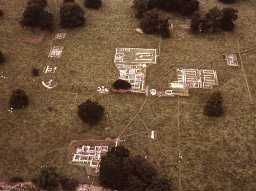 Chesters Roman Fort from the air. Copyright Reserved: Museum of Antiquities, Newcastle upon Tyne.
The
Roman
fort at Chesters was built to guard
Hadrian's Wall
where it crossed the River North Tyne by means of a
bridge
. The fort was built after the Wall and overlies it and a
Turret
. Much of the fort is still visible today and it survives both as exposed walls and
earthworks
. For example, the fort wall in the south-east corner of the fort stands 1.9m high. Some of the buildings inside the fort are also well preserved and include the headquarters building, commanding officer's house and some barrack blocks. However, much remains buried and recent geophysical surveys have revealed a little of what lies below the ground. These include the routes of roads and traces of buildings, as well as a training circle for horses, known as a gyrus. Sections of Hadrian's Wall stand next to the fort at the east and west gateways and the wall ditch is a vague
earthwork
. Nearby is a large
civilian settlement
, or vicus, a
well
,
bath house
, and
cemeteries
. Chesters Roman fort is managed by English Heritage and is open to the public. This is a
Scheduled Monument
protected by law.
DESK BASED ASSESSMENT, A compendium of the published material relating to the Roman Fort at Chesters 1939; ROWLANDS, M
EXCAVATION, An Excavation at Chesters, 1960 1960
FIELD OBSERVATION, Ordnance Survey Archaeology Division Field Investigation 1967; D Smith
WATCHING BRIEF, Chester Roman fort. Access improvements to footpath and kissing gate - watching brief 2001; TYNE AND WEAR MUSEUMS
GEOPHYSICAL SURVEY, Magnetic and resistance geophysical survey at Chesters Roman Fort, Chollerford 2003; TIMESCAPE RESEARCH SURVEYS
EXCAVATION, Chesters House, Chollerford. Re-excavation of cable trenches within and adjacent to scheduled monument no.26051. Monitoring of excavation of security camera foundation pits 2004; Alan Williams Archaeology
WATCHING BRIEF, Chesters Roman Fort 2006; Tyne and Wear Museums
WATCHING BRIEF, Replacement sewage treatment plant, Chesters Roman Fort 2009; Tyne and Wear Museums
TRIAL TRENCH, Chesters Roman Fort 2010; Archaeological Services Durham University
WATCHING BRIEF, Chesters Roman Fort Bath House, Northumberland: Archaeological Watching Brief 2012; TWM Archaeology
GROUND PENETRATING RADAR SURVEY, Ground Penetrating Radar Survey, Chesters Roman Fort, Humshaugh 2016
TEST PIT, Test Pit at Chesters House, Humshaugh 2017; Alan Williams Archaeology
Disclaimer -
Please note that this information has been compiled from a number of different sources. Durham County Council and Northumberland County Council can accept no responsibility for any inaccuracy contained therein. If you wish to use/copy any of the images, please ensure that you read the Copyright information provided.