Corbridge Roman station and town (Corbridge)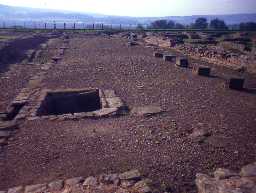 Corbridhe Roman Town. Photo by Harry Rowland, 1994.
The extensive remains of a major
Roman
town and supply base for
Hadrian's Wall
stand just west of the present village of Corbridge. The earliest structure was a timber supply base probably built by Agricola in the first century AD, before Hadrian's Wall was built. This was replaced by a turf and timber fort which protected
Dere Street
, the main road from York to Scotland, where it crossed the River Tyne. A series of at least five other forts were laid out on the site over the following years., each slightly altering the internal plan of the fort but largely keeping within the existing ramparts and ditches. This development continued until about the AD160s. At this time the Antonine frontier in Scotland was abandoned and the fort seems to have undergone a drastic change in appearance.
The ramparts were levelled and most of the buildings demolished, the granaries were rebuilt in a more massive style, and a large courtyard building and an elaborate aqueduct and fountain were built. However, excavations have shown that these ambitious plans got little further than foundation stages before being abandoned. Other developments took place to the south with small properties including a pottery shop or warehouse, possible workshops, administrative block and substantial houses. These buildings were in probable military compounds, protected by a substantial wall. The later history of Corbridge, in the third and fourth centuries remains unclear.
Excavations at Corbridge have unearthed many fine finds, from sculptured stones to a hoard of metal and other objects buried in a wooden box. Some of the discoveries date to earlier and later periods and include
Iron Age
metalwork and
early medieval
finds. Today the site is run by English Heritage and the remains of stone buildings can be seen and many of the finds are on display in the site museum. This is a
Scheduled Monument
protected by law.
EXCAVATION, Excavations at Corbridge, 1936-1938; Excavations at Corbridge, 1938-9 1939
FIELD OBSERVATION, Ordnance Survey Archaeology Division Field Investigation 1966; R Lewis
WATCHING BRIEF, Corchester Lane, Corbridge 2004; The Archaeological Practice Ltd
WATCHING BRIEF, Archaeological watching brief at Corstopitum, Corbridge 2007; Archaeological Research Services
WATCHING BRIEF, An archaeological watching brief at Corstopitum, Corbridge 2008; Archaeological Research Services
WATCHING BRIEF, Corbridge Roman Station, Northumberland. Archaeological watching brief 2008; Tyne and Wear Museums
WATCHING BRIEF, Corbridge Roman Town 2011; TWM Archaeology
GEOPHYSICAL SURVEY, Geophysical survey on Beaufront Estate, Corbridge 2017
WATCHING BRIEF, Corbridge Roman Site 2018; Archaeological Services Durham University
Disclaimer -
Please note that this information has been compiled from a number of different sources. Durham County Council and Northumberland County Council can accept no responsibility for any inaccuracy contained therein. If you wish to use/copy any of the images, please ensure that you read the Copyright information provided.