Housesteads Fort (Bardon Mill)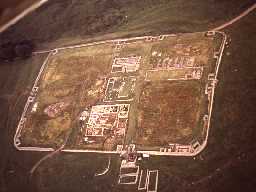 Housesteads Roman Fort from the air. Copyright Reserved: Museum of Antiquities, Newcastle upon Tyne.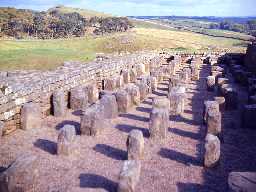 Roman granaries at Housesteads. Photo by Harry Rowland.
The
Roman
fort at Housesteads, known to the Romans as Vercovicium, occupies the prominent crest of Whin Sill to the west of the Knag Burn. It has wide views to the north and south, being one of the most dramatic and best-preserved Roman sites in Britain. It has produced many important archaeological finds including quantities of statuary, altars, inscriptions, pottery and small finds.
The fort was added to Hadrian's Wall after the broad wall foundations and
turret 36b
were built, but before the narrow wall (which was eventually constructed on the broad wall foundations) was constructed up to the fort. It is unusual among the forts of the Wall for having an east-west orientation rather than a north-south one. This is due to the limited space at the site. The fort covers an area of approximately two hectares and accommodated a cohort between 800 and 1000 strong. A cavalry unit later strengthened it.
There has been a history of excavations on the fort from 1822 up to 1988. Its remains survive well as upstanding masonry and earthworks and buried features. The walls, gateways and a number of building, including the headquarters building, the commanding officer's house, a hospital, granaries, barracks, workshops and a latrine inside the fort are exposed.
The earliest activity on the site dates to the
Bronze Age
, and was a Bronze Age pot found beneath one of the barracks, which had probably come from a ridge top burial mound. Post-Roman activity on the fort site includes a
bastle
house which was built partly over the west tower of the south gateway.
The fort at Housesteads is a
Scheduled Monuments
protected by law.
EXCAVATION, Excavations at Housesteads in 1931; Excavations at Housesteads in 1932; 3rd Report on Excavations at Housesteads; 4th Report on Excavations at Housesteads; 5th Report of Excavations at Housesteads 1936
EXCAVATION, Excavations in Housesteads Fort, 1960 1961
EXCAVATION, Excavations in the Roman Fort at Housesteads, 1961 1961
FIELD OBSERVATION, Ordnance Survey Archaeology Division Field Investigation 1966; R W Emsley
EXCAVATION, The Commandant's House, Housesteads 1967
EXCAVATION, The Hospital, Housesteads 1973
EXCAVATION, Housesteads North Rampart 1981; DANIELS, C M
ENVIRONMENTAL SAMPLING, Housesteads Fort 1984; English Heritage
AERIAL PHOTOGRAPHY, Hadrian's Wall Landscape from Chesters to Greenhead 1999; T GATES
X RAY FLUORESCENCE SURVEY, Metal working evidence from Housesteads Roman Fort 2001; Centre for Archaeology, English Heritage
WATCHING BRIEF, An archaeological watching brief in association with a coring survey along the B6318 'Military Road', Throckley-Gilsland, Tynedale, Northumberland 2007; Pre-Construct Archaeology
WATCHING BRIEF, Housesteads Fort, Northumberland: interpretation panels: archaeological monitoring 2012; Archaeological Services Durham University
WATCHING BRIEF, Housesteads Museum and Farm 2015; Archaeological Research Services
WATCHING BRIEF, Foul Drainage Works, Housesteads Roman Fort 2016; Archaeological Services Durham University
Disclaimer -
Please note that this information has been compiled from a number of different sources. Durham County Council and Northumberland County Council can accept no responsibility for any inaccuracy contained therein. If you wish to use/copy any of the images, please ensure that you read the Copyright information provided.