Local History
Acklington (Northumberland)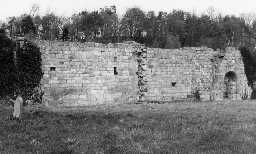 Brainshaugh Priory, Acklington. Photo Northumberland County Council, 1971.
The parish of Acklington has a variety of archaeological remains from
prehistoric
times through to 20th century structures from World War II, so there is something to interest everyone.
The earliest evidence of human occupation in Acklington parish consists of some human bones found in a field near Barnhill. Such finds are typical of
Bronze Age
burials and it is possible that other burials may have once existed nearby to form a larger cemetery. As with so many other discoveries from long ago, there is no record of what happened to these remains and no accurate record of their discovery.
A
prehistoric
settlement at Chester House could possibly date to the
Bronze Age
in its earliest form, but it is more likely to date to the
Iron Age
, when such sites were quite common in Northumberland. This site was occupied over hundreds of years and changed from isolated farmsteads to groups of smaller buildings set within an enclosure. Interestingly, the site was overlain by broad ridge and furrow, which may belong to a later farmstead at Chester House Farm. This farm is mainly 19th century, but there are clues to an earlier building. Just how much earlier might it be? It would be stretching the evidence too far to say that the Chester House area has been continuously farmed for 3000 years, but the prehistoric settlement was certainly occupied until the Roman period and the later farmhouse may have been occupied since medieval times.
There were a number of small settlements in the Acklington area in medieval times. The village of
Guyzance
was in existence since 1242, and the surrounding land was enclosed in 1685. In 1147, a
priory
was founded at Brainshaugh for nuns who belonged to the Premonstratensian Order. The chapel ruins are still visible, but all other buildings survive only as buried foundations.
The archaeology of more recent times has left its mark on Acklington parish too. A number of farms still have boiler house chimneys reminding us of days when farms were powered by coal and steam.
The
Acklington Park Ironworks
brings us to a time of increasing industrialization in Northumberland. These ironworks were built in 1176. At the same time a dam was constructed to feed water into the millrace that was to supply the power for the foundry. This dam is now considered to be the finest 18th century dam in England! It is a magnificent horseshoe shape with an unusual vertical downstream face. The ironworks were too far away from their market and by 1791 the mill was being used to manufacture woollen cloth instead. Today the mill is private housing.
As well as its magnificent dam, the River Coquet boats an historic bridge at Brainshaugh and an historic viaduct built to carry trains on the east coast main line. Another example if railway architecture is
Acklington Railway Station
and
Goods Shed
built between 1847-9 in a mock Tudor style by Benjamin Green. The station is now a private house.
Disused buildings and structures associated with both world wars are now considered to be of archaeological interest. In Acklington parish, a World War II anti-aircraft artillery site survives which was built to protect RAF Acklington. The gun has of course long gone.
Although the Acklington area has been occupied by people for thousands of years, the architecture of the area is predominantly 19th century in appearance and the countryside a mixture of an immature landscape created by open cast coal mining and a more traditional 18th enclosure landscape with dry stone walls surrounding large square fields.
Disclaimer -
Please note that this information has been compiled from a number of different sources. Durham County Council and Northumberland County Council can accept no responsibility for any inaccuracy contained therein. If you wish to use/copy any of the images, please ensure that you read the Copyright information provided.