Robert's Battery (Seaton Valley)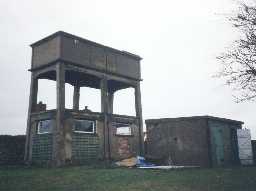 Water tower and ablutions block, Robert's Battery. Photo Northumberland County Council.
Robert's Battery at Hartley was built in response to the threat of a bombardment of Tyneside in World War I (1914-1918). At first Tyneside was protected by an old battleship permanently based on the river as a guardship but, in 1916 the ship was needed elsewhere. As an alternative the Army was offered two redundant gun turrets, from the 1898 HMS Illustrious, for emplacement on land and two identical batteries were constructed at Marsden, near Sunderland (Kitchener Battery) and at Hartley (Robert's Battery). Work began in 1917 but was unfinished at the end of the war; it was eventually finished in September 1921 at a cost of about £64,000. Unfortunately, a few years later in 1924 the Committee of Imperial Defence recommended removal of the turrets, probably because the guns were obsolete, and work was underway in April 1926.
The battery had two transmitting cells and two receiving cells, one each to the north and south of the battery, and a Barr and Stroud split image range finder in a rangefinding post. Extensive underground works were constructed including shell and cartridge stores, engine room, etc. and these were still visible in the early 1960s. On the surface of these works were 12 inch guns and a blockhouse. The concrete plinths for these guns and the blockhouse were also still visible in the early 1960s. Sadly these features are no longer visible. A 30ft Barr and Stroud post was the Battery Command post and had officers' accommodation attached and now survives as a private house (Fort House). The post was surrounded by a defensible wall, which still survives, pierced by rifle loopholes and including at one corner a defensible latrine. Inside the walled area were domestic buildings e.g., wooden huts, water tower, etc. A
Chain Home Low radar station
was established on the site of Hartley Battery in World War II (1939-1945) and the buildings still survive. The underground works represent one of the largest military engineering projects of their day. Fort House, the boundary wall and outbuildings are Grade II*
Listed Building
s protected by law.
Early 20th Century (1901 to 1932)
Second World War (1939 to 1945)
FIELD SURVEY, North East Rapid Coastal Zone Assessment - Phase 2 2010; Archaeological Research Services
HERITAGE ASSESSMENT, Water Tower and Fortified Latrines, Fort House, Old Hartley 2014; North of England Civic Trust
DESK BASED ASSESSMENT, Fort House, Old Hartley 2019; The Archaeological Practice Ltd
EVALUATION, Fort House, Old Hartley 2019; The Archaeological Practice Ltd
Disclaimer -
Please note that this information has been compiled from a number of different sources. Durham County Council and Northumberland County Council can accept no responsibility for any inaccuracy contained therein. If you wish to use/copy any of the images, please ensure that you read the Copyright information provided.