Local History
Sockburn (County Durham)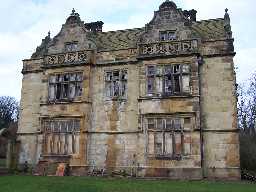 Sockburn Hall© DCC 2007
The parish of Sockburn lies to the south of Darlington in a peninsula formed by the River Tees. Until the reorganisation of 1974 it formed the most southerly spot of the county.
The village was first recorded as 'Soccabyrig' as early as AD 780. Two different place name meanings have been suggested: 'Socca's Fortified (Byrig meaning fortified) Place' and 'Fortified Place of Soke'. Soke is the Anglo-Saxon word for a legal investigation.
The village is important as a place of Anglo-Saxon religious importanc. The consecration of Higbald of Lindisfarne took place here in AD 780, followed by Eanbald as Archbishop of York in AD 790. 'Socceburg' was also given to the community of St Cuthbert's in AD 990 and may have been a
minster
of one of the large estates from the 7th to 10th centuries.
All Saints Church lies in ruins within the grounds of Sockburn Hall (rebuilt 1834). The remains of 13th century architecture are still present in various areas such as the western wall and southern arcade. Conyers Chapel (15th century) was enclosed in 1900 as a museum of the remains of the original building. The 10th century Saxon Nave and numerous examples of pre-conquest sculpture are also housed here.
Local traditions record that Sockburn was once the home to a terrible monster called the Sockburn Worm. It terrorised the neighbourhood until was killed by Sir John Conyers, a member of a local noble family. From that day on each new Prince-Bishop of Durham was presented with the sword that killed the worm upon entering their new Bishopric for the first time at at Croft on Tees. The recently revived ceremony includes the following presentation speech, traditionally made by the Lord of Sockburn;
"My Lord Bishop. I hereby present you with the falchion wherewith the champion Conyers slew the worm, dragon or fiery flying serpent which destroyed man, woman and child; in memory of which the king then reigning gave him the manor of Sockburn, to hold by this tenure, that upon the first entrance of every bishop into the county the falchion should be presented."
The Durham historian Hutchinson was of the opinion that the legend of the Sockburn worm is a reference to some long since forgotten Viking rover who sacked and plundered this part of the Tees valley.
Disclaimer -
Please note that this information has been compiled from a number of different sources. Durham County Council and Northumberland County Council can accept no responsibility for any inaccuracy contained therein. If you wish to use/copy any of the images, please ensure that you read the Copyright information provided.