War Memorial Cross, Easington Colliery Cemetery (Easington Colliery)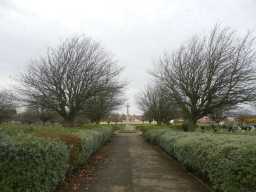 Oblique view of Easington Colliery War Memorial and its surroundings November 2016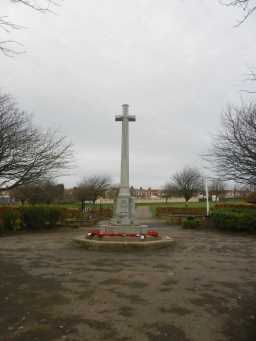 Oblique view of front of Easington Colliery War Memorial November 2016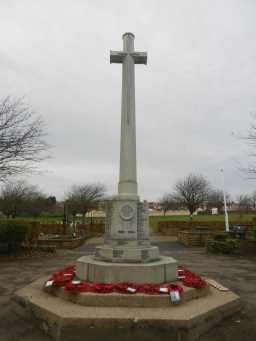 Closer up oblique view of front of Easington Colliery War Memorial November 2016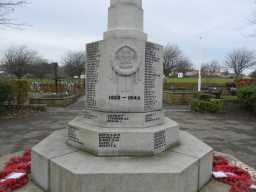 Oblique view of carving and dedications on front of Easington Colliery War Memorial November 2016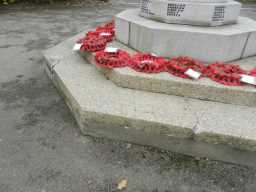 Base of front of Easington Colliery War Memorial November 2016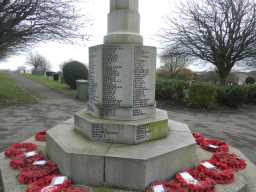 Oblique view of dedications on back of Easington Colliery War Memorial November 2016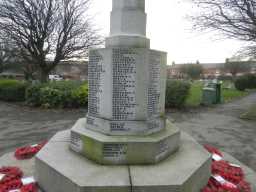 Second oblique view of dedications on back of Easington Colliery War Memorial November 2016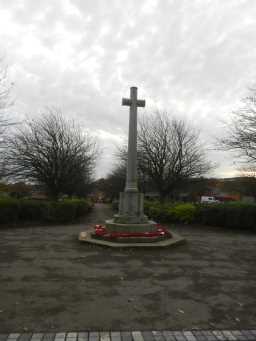 Oblique view of back of Easington Colliery War Memorial November 2016
Tall grey granite cross of sacrifice (Blomfield design) with Crusader's sword at the crossing. Stands at the head of an octagonal shaft set on an octagonal plinth and four steps. Front face of plinth bears a wreath carved in half relief with "Our Glorious Dead 1914-1918" inside, 1939-1945 just below. Names of the
First World War
dead are carried on six faces of the octagonal plinth, listed in single columns of black relief lettering. The names of the WW2 dead are found on the risers of six faces of the top two steps. There is also a dedication for those who served and died in Bosnia, 1995. Memorial unveiled 1926, rededicated with additional plaques 1949. (1-2). Memorial located in the Easington Colliery cemetery, just south of the Colliery Disaster memorial.
Early 20th Century (1901 to 1932)
First World War (1914 to 1918)
Late 20th Century (1967 to 2000)
Second World War (1939 to 1945)
21st Century (2001 to 2100)
Disclaimer -
Please note that this information has been compiled from a number of different sources. Durham County Council and Northumberland County Council can accept no responsibility for any inaccuracy contained therein. If you wish to use/copy any of the images, please ensure that you read the Copyright information provided.