Pillbox
A small building, of concrete-slabs or filled bags, widely used in World War II to provide a line of defence, called a stop-line, against enemy landings by sea and air, and any advance from these. Most are of the slab type - but there are concrete-filled bag examples in Northumberland at Seaton Sluice, Bothal and Thropton. Some were disguised as cottages - there is one at Hemscott Hill, Northumberland. These buildings held small garrisons of soldiers armed with rifles and machine guns. Some pillboxes were large enough to accommodate anti-tank guns - there is a surviving example to the north of Bamburgh of this type. Mobile, and larger, forces could then be summoned as reinforcement.

Defensive circles were also built around airfields (Ouston, best example in Northumberland), coastal batteries, towns (example on north side of Ponteland, Northumberland, around Newcastle and Durham), and radar-sites (Ottercops Moss, Northumberland). These might operate with other defensive measures - see Bywell Bridge holes, (under George Basevi). There use was not widely advocated after 1941AD as they did not suit the style of warfare. There is a rare late World War I/1920s example at Hartley battery, (see under turrets), Seaton Sluice, Northumberland.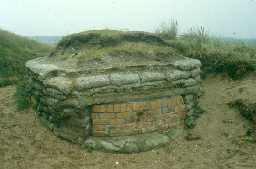 To explore more glossary entries click on a letter.
A B C D E F G H I J K L M N O P Q R S T U V W Z 1-9